Smart watches are an accessory we are familiar with, but smart belts are not widely known. These are embedded with the same smart technology that you are used to using in smart watches. It's a fashionable wearable that's catching on fast. Take a look at our picks of smart belts that you should definitely look at:
6 Smart belts that are worth trying
1. Smart Belt 3.0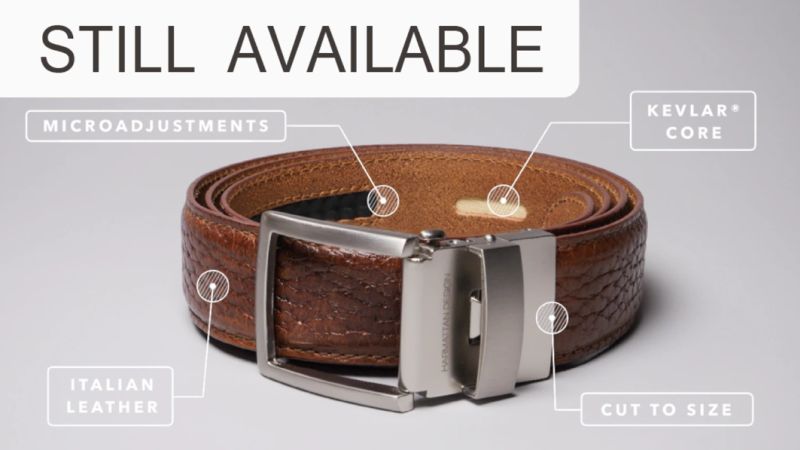 Image Source: ksr-ugc.imgix.net
The Smart Belt 3.0 is a fantastic accessory as well as fitness wearable. Also known as the Harmattan smart belt, the belt has four incredible innovations you would love to use. The belt has made history as being the most funded accessory on Kickstarter, and it surely isn't one of the cliché Kickstarter gadgets that are going to come up short. Here are some of the features of Smart Belt 3.0 that make it so special.
Micro adjustments
Instead of a meagre 5-hole adjustment, the belt comes with 32 adjustments which opens up a new world of adjustability. The waist tends to change from time to time, during the day as you go about your day. This belt adjusts itself automatically, so that it stays comfortable throughout the day, either tightening itself or loosening according to requirement. Many are preferring the Harmattan smart belt over others as it is too comfy and looks great as well.
Kevlar core
The belt is also a smart belt Kevlar made from the Kevlar fibers. Regular belts are made from leather which stretches out and loses structure. The Kevlar Core reinforces the belt and keeps the structure of the belt intact, making it highly durable, but light and comfortable as well. This is the only belt which has been authorized by the company DuPont to make belts using the Kevlar. The smart belt with Kevlar Core is one of the best, durable, lightweight and trendy belts in the fitness category.
Italian Leather
Luxurious Italian leather sourced from a small valley in Italy's Tuscany region, where the leather is tanned using vegetable tanning, instead of chromium tanning. The high-quality leather is more resilient than the regular leather, has a lovely smell and is ecofriendly to boot. Every belt has a unique serial number and certificate of authenticity.
DIY sizes
The Smart Belt 3.0 has another extremely useful feature. You can DIY the size so even when you are between sizes, it can be used. The belt can make a great gift as well as the person you give it to can DIY the size according to his own waist size. As the maximum size is 45 inches or 115 cm, it can be given to almost anyone without the fear of the size being wrong.
2. Belty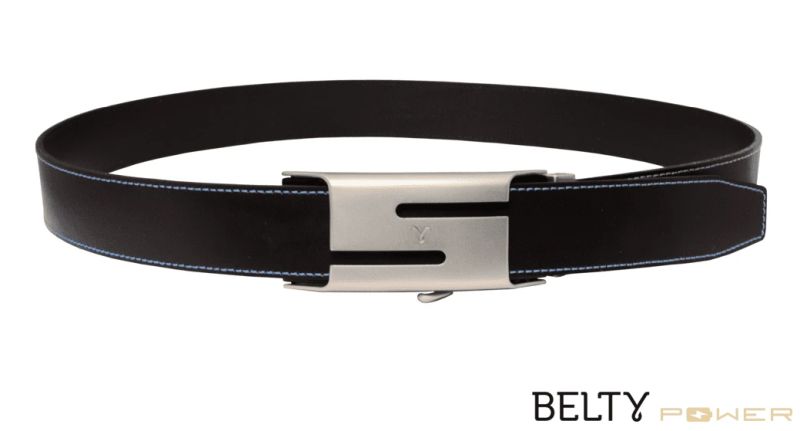 Image Source: cdn.shopify.com
This belt is perfect for those on the road to fitness, but have a trying time when it comes to monitoring the intake of food. In other words, the belt will adjust itself, if you eat more than you should. It tracks the changes which occur to your body as you eat. The design is fashionable making it an attractive accessory. This is one of the smart belt ideas which will help you lead a healthy lifestyle.
The AI integrated belt urges you to perform the small, positive actions which will add up to having a powerful impact on your health. It encourages you to walk faster with rhythm. The belt communicates in real time by vibrating which reminds you to take action, and when you tap on it, it learns your preferences. This is helpful during the day when you are at work or out and about, to be alert about your fitness goals and thus achieve them.
The Belty was designed by the French start-up called Emiota, and helps you eat mindfully. The smart belt has a gyroscope, accelerator as well as small sensors to determine your movement during the day and lets you know if you should be more active. With the belt, you can lead a much healthier life as it keeps sending you notifications and feedback all through the day.
3. WELT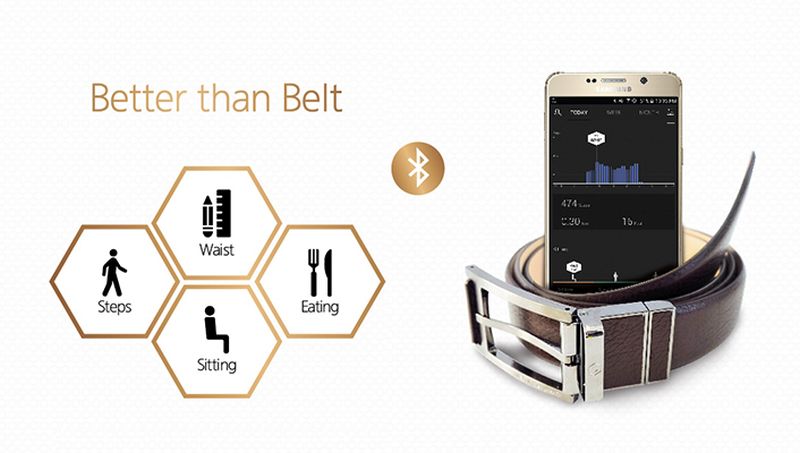 WELT was designed by a team from Samsung. It is one of the best smart belts available as it provides you with your health data and gives warnings and tips about your health. The smart belt tracks activity, waist size and food intake. WELT not tracks your steps but also tracks the amount of time you have been sitting for.
WELT has a magnetic waist sensor which is embedded in the belt's buckle and tracks the waist size real time. It can tell you whether your waist circumference has increased or decreased, as it senses waist sizes from 28-44 inches.
4. Smart Belt Pro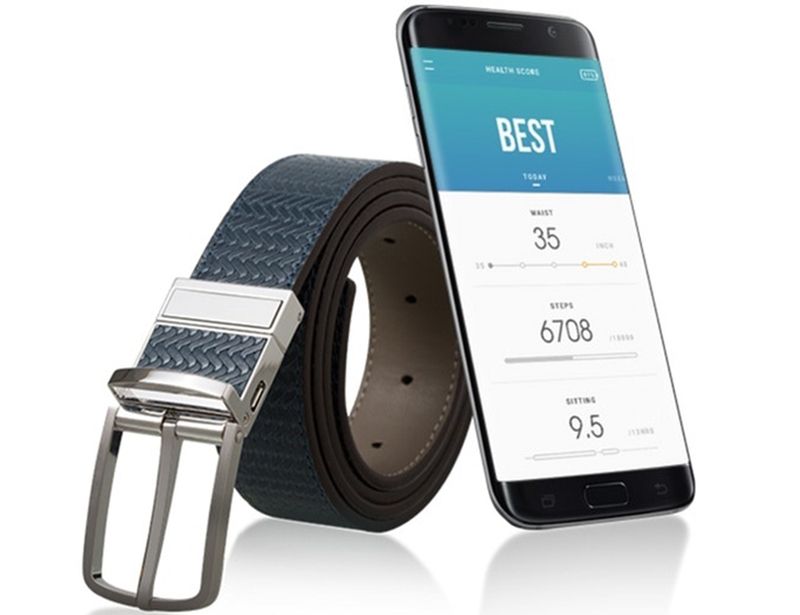 Image Source: wearable-technologies.com
Just like all the other CES expos, this year's CES too had a string of weird gadgets. Thankfully, Smart Belt Pro wasn't one of them. The belt is specially designed for the physically disabled and the elderly. Falls tend to be fatal for many elderly people, and mostly falls make elderly people bed-ridden. The Smart Belt Pro won the CES Innovation Award, as it is a risk assessment smart belt, designed to reduce the risk of falls.
The embedded sensors and algorithms correctly calculate the risk of falls from abnormal gait patterns, such as symmetry and abnormal gait pattern. The app sends notification about gait pattern and high fall risk, anticipating falls in advance and updates personalized data on user's phone. The AI integrated belt gets smarter the longer it is worn.
Made from Italian leather, the leather belt is super comfy and the Automatic Buckle is much more convenient than other conventional buckles.
5. LumiDiet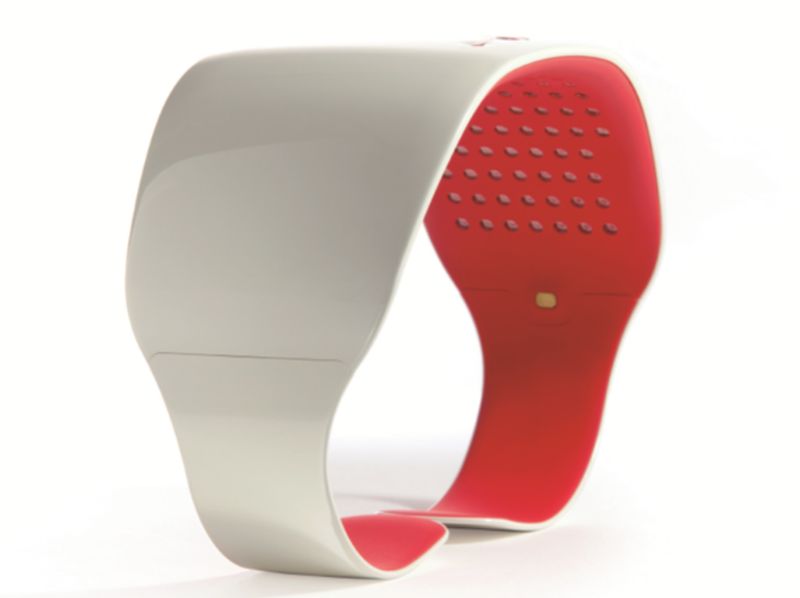 LumiDiet is a belt which helps to reduce belly fat. It is a wearable device which uses light to decrease the fat from the fat cells. The fitness wearable is trendy and sophisticated and without the use of surgical treatment, you can lose fat by just wearing the belt. In combination with exercises like cardio, you can lose weight faster and reach your fitness goals.
Smart belts can help to live smarter and healthier, as they keep track of the food you eat, and the exercise you do. Losing belly fat is a struggle for many and some of these smart belts are designed specifically to help you do that. Once you see the fat melting, you might become more motivated to perform other exercises to lose the weight from the whole body. As a fitness wearable, and a stylish, comfortable accessory, smart belts are worth buying in 2020!
6. SMART belt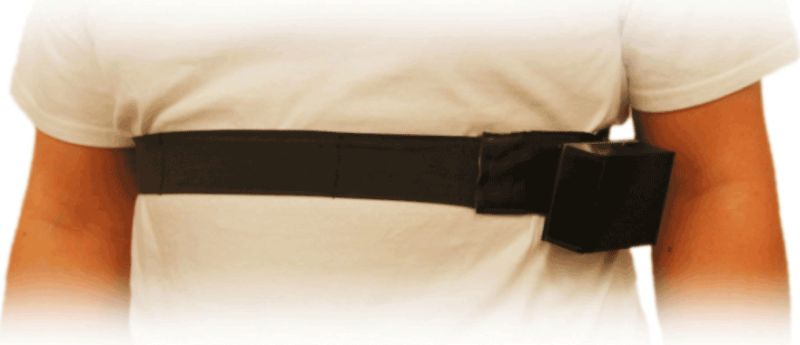 Image Source: resna.org
This smart belt was one of the first smart belt ideas to hit the market. It was developed by some students from Rice University. The belt has a unique function – it helps people with epilepsy. It can help parents or guardians to prepare for an epilepsy attack which the belt detects, and sends a wireless notification. This is done through the use of silver chloride electrodes which are embedded in the belt, and these chlorides can detect the changes in the skin conductance. By noticing respiration rate change and sweat build up on the skin, the belt can determine if an attack is about to occur.