There's no place better than CES to get attention for your gadgets. For top firms, it is a piece of cake. But when you aren't among the top players, the best way to get that attention is by coming up with something that others haven't even thought about. It could be a never thought about function or a completely out-of-the-box design (or both). How many of these gadgets become successful is another story, but at least they don't fail to turn heads at the expo. In fact, this is what most of us bored tech junkies look for. If you too don't find the latest gadgets appetizing anymore, we are sure the following tech weirdos would definitely make you drool.
Weirdest gadgets from CES 2020
1. The Round Smartphone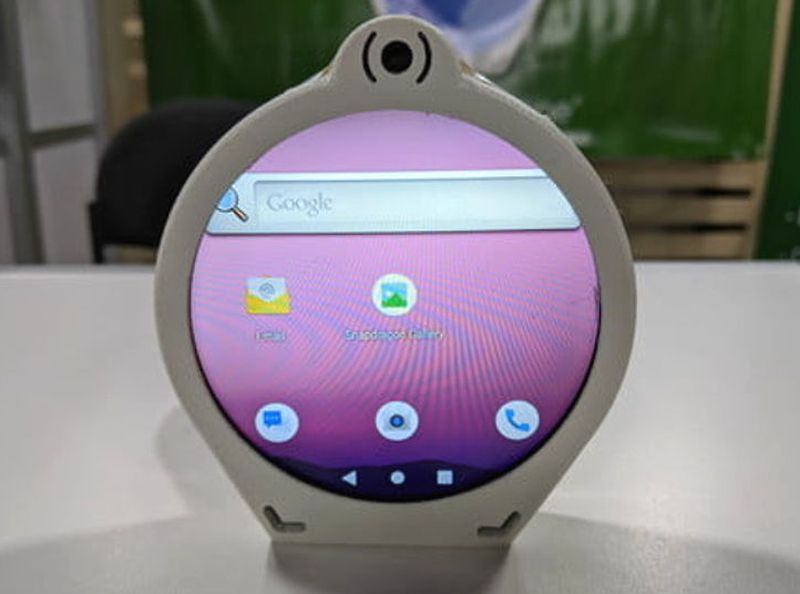 Image Source : i10.dainikbhaskar.com
Did you ever wonder why the smartphones are rectangular and never circular? Neither did we. But, thanks to the 'Cyrcle Phone', now you would. In order to make its phone stand out in the highly competitive smartphone market, Christina Cyr, the owner of US based startup launched Cyrcle Phone at CES – 2020. Apart from its unique shape, the smartphone also has modest features like 2 GB RAM, 16 GB internal memory, 13 MP Camera, Two Jacks, Dual SIM and a battery capacity of 2000 mAh. So, even if you are looking to buy it just for kicks, for a presale price of $500, it won't be that bad a deal.
2. Toilet Roll Robot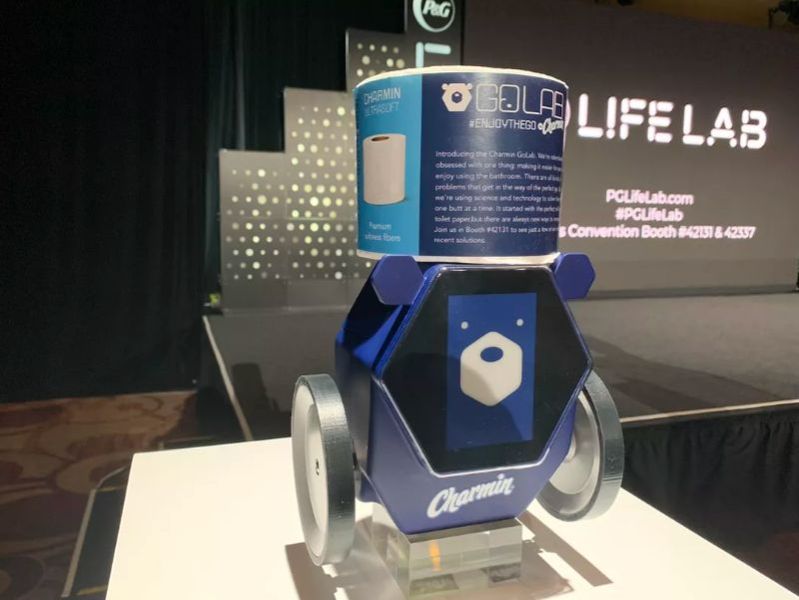 Image Source : cnet4.cbsistatic.com
Tech gadgets like Charmin's bear-faced toilet roll robot show that no matter how advanced we are there's always a little room for technology. We are in 21st Century now, we still need toilets, and we always will. And no matter how much you try to prevent it, almost invariably, there comes a time, when you are sitting on the toilet seat desperately looking for some toilet paper and you find none. At time like that you can neither think of getting up and fetching some toilet paper yourself nor could you ask someone else to bring it to you. However, if you have Charmin's toilet roll robot, all you need to do is connect to it using your smartphone and it'd automatically bring the toilet paper to you.
3. Smart Belt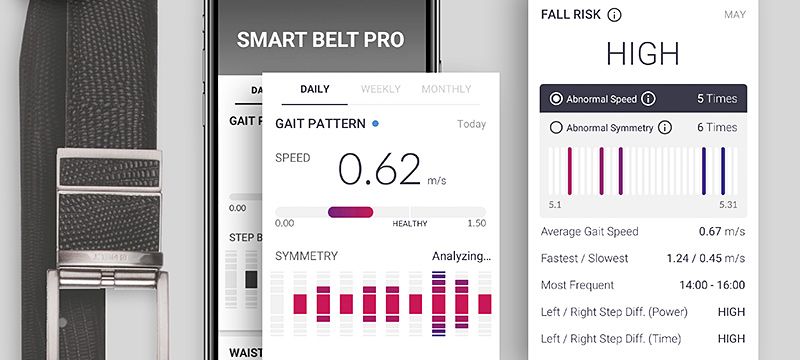 Image Source : iotbusinessnews.com
Tired of smart watches and smart glasses? Well, now you have one more gadget to be tired of. It's the smart belt. Though this smart belt by honoree isn't the first smart belt ever, but it's certainly one of the best ones, as it perfectly serves the purpose that it is meant for. It is designed to prevent the elderly from falling over. Winning the innovation award at CES 2020 this Smart Belt could be the perfect tech gift for the elderly.
While other tech gadgets of this kind can detect a fall only after its inevitable, this smart belt is different. By analyzing the walking pattern of its user, it predicts the fall in advance. Since falls are among the major causes of death in the elderly, this gadget might prove extremely useful in helping them live a longer and safer life.
4. E-Ink Phone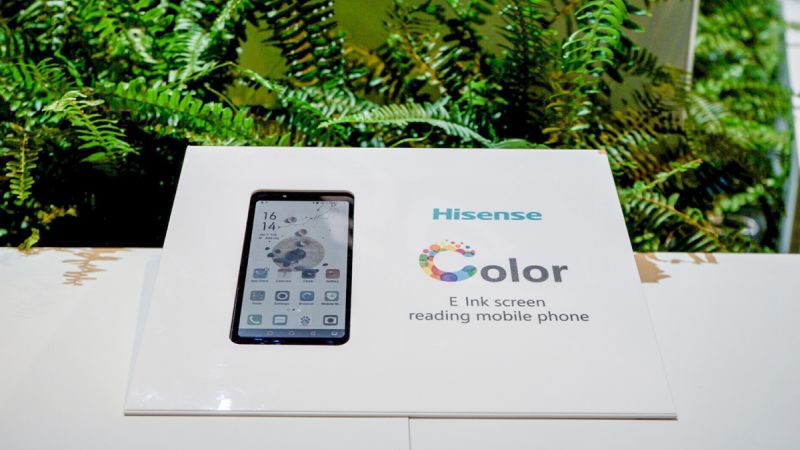 Image Source : techgenyz.com
Did you know that from your television to your tablet, laptop, and smartphone, all the gadgets emit the harmful blue light? This light not only affect your eyes but might also cause sleep problems. There's one gadget, however, which doesn't emit this blue light. It is Amazon's Kindle, which operates on E-Ink. So, in order to introduce all of the E-Ink's benefits to the smartphone, Onyx displayed a prototype of its E-Ink phone at the CES 2020. It operates on Android Pie and since screen refreshing is the main issue with E-Ink displays, this device offers multiple screen refresh speeds.However, as of now, the phone is still in experimental phase, and it isn't available commercially as of now.
5. Smart Mirror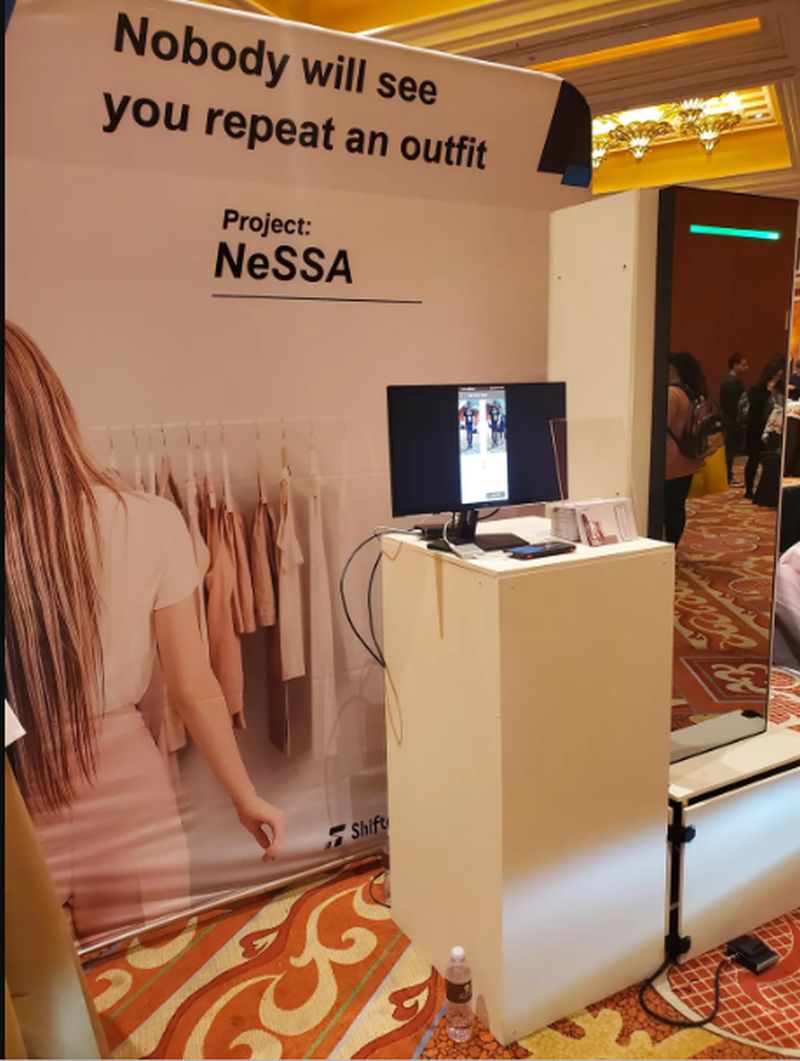 Image Source : cnet2.cbsistatic.com
Now that we are tired of smartphones, from the consumers to the brands, everybody is concentrating on other types of smart gadgets. Among all these, smart mirror seems to be the best prospective for the future. Last year LG launched its ThinkQ and this year it was turn for Shiftall, which has come up with its NeSSA mirror (which is the short form for Never Same Shirt Again). Like the name suggests this mirror is designed to make sure that you don't wear the same shirt again. It comes with an in-built camera, which automatically takes your picture and uploads it to its cloud server to find out when did you wear the same shirt previously. Thus, it would prevent you from wearing the same shirt once again too soon.
6. Voice Activated Faucet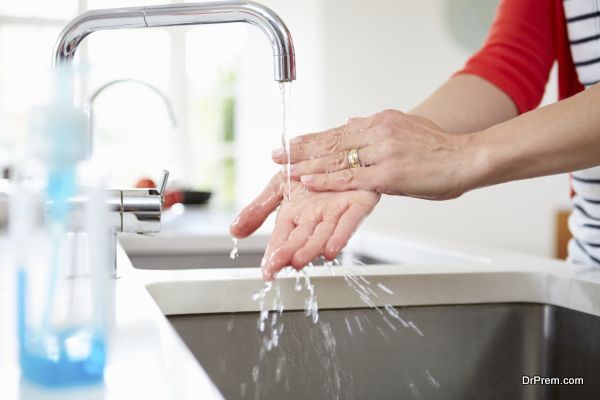 We don't know whether that voice activation is the next level of technology or not, but we surely know that everything is getting voice activated nowadays. Even the CES – 2019 had many such gadgets. From light switches and ceiling fans to speakers and thermostats pretty much everything is voice activated so why should faucets stay behind in this race? Moen's latest smart faucet assures that they don't. The U by Moen Smart Faucet let's you start or stop the flow of water at the command your voice. It's compatible with both Google Assistant and Alexa, and also has sensors that detect hand gestures. Cool, isn't it?
7. Rotating Television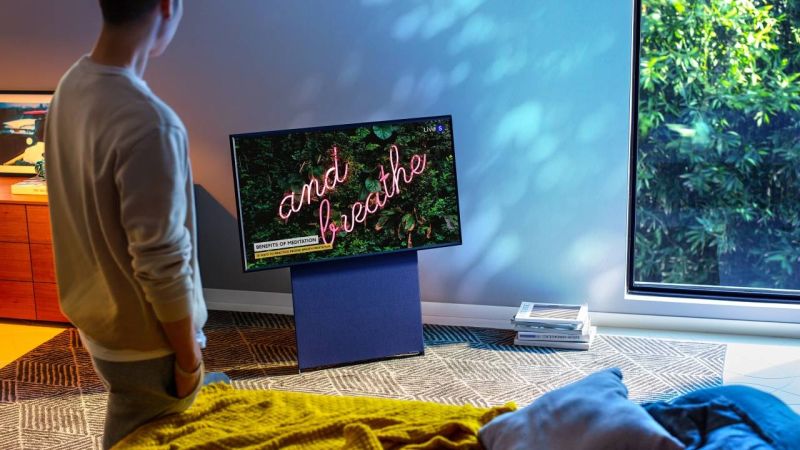 Image Source : scdn.slashgear.com
This year at CES – 2020 Samsung launched its latest 4K TV called Sero. In the ability of both the television and its display to rotate vertically and horizontally, it resembles a smartphone. In fact, when you sync the television with your phone, it automatically rotates to match the orientation of your phone. Samsung hasn't made any confirmation regarding the cost and availability of the television. At present, all we know about it that it would be available in 43-inch size.
8. Anti-Snore Pillow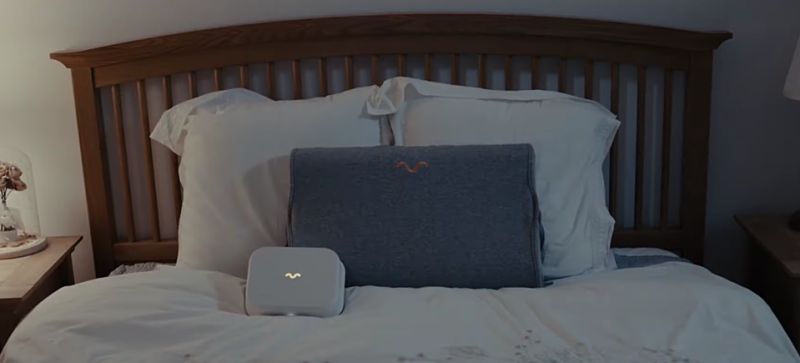 Image Source : townsquare.media/
If this pillow works out, we are sure that it would be successful gadget from this year's CES 2020. It works on the simple concept that a person who is snoring tends to stops doing so when someone moves his or her head. This pillow contains pressure sensors and inflatable airbags to achieve this feat.
9. Invisible Keyboard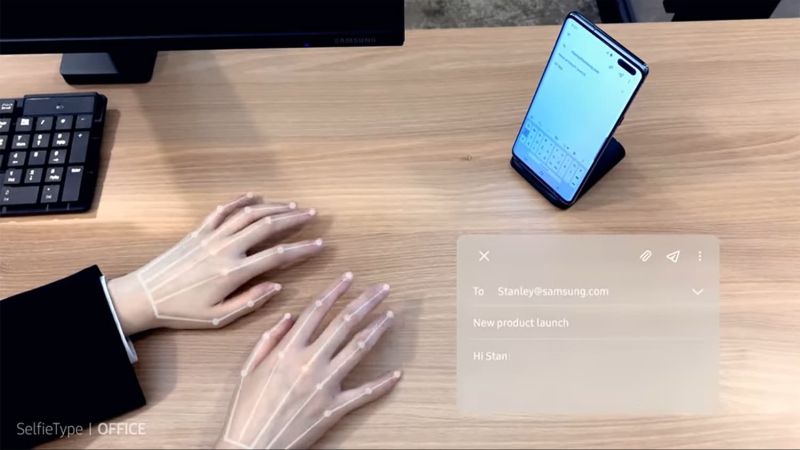 Image Source : inceptivemind.com
If your typing speed on the keyboard is good and you can't achieve even half of it no your smartphone, then there's good news for you. With Samsung's latest invisible keyboard, you'll be able to significantly remedy this problem. This feature is called is SelfieType and using it is extremely simple. To operate it, all you need to do is place the compatible device on a flat surface and then bring your hands over the surface in front of the gadget in typing position, that's all. You can start typing.
10. Cheese Scraping Robot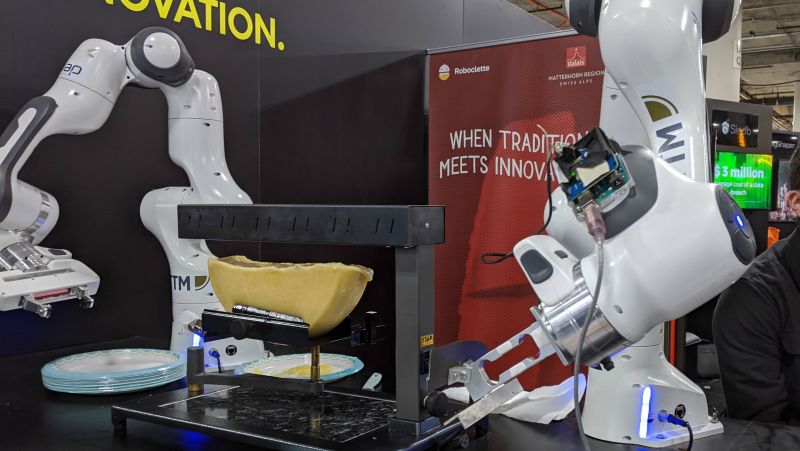 Image Source : icdn2.digitaltrends.com
What do you need to be able to cut perfect slices of cheese? Steady hands? Perfect Vision? Experience? Why not just a robot? That's right. At this years CES researches teamed up with raclette cheese cutter Eddy Baillifard to come up with a robot the perfect cheese cutting robotic arm. This gadget is laced with Artificial Intelligence algorithm that not only lets it cut perfect slices of cheese, but also helps it makes adaptations depending upon the size and arrangement of cheese in front of it. The gadget might prove highly useful to professional cooks, but even they won't be able to deny its weirdness.