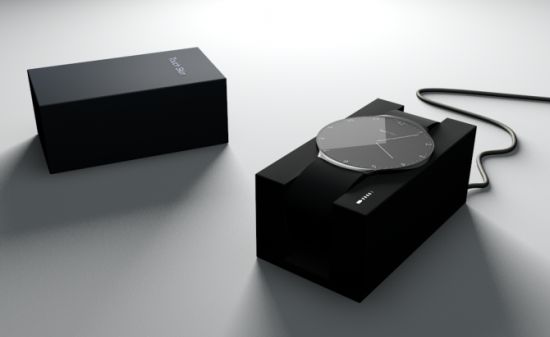 Amalgamating the classic analogue with an inspiring, minimalist watch design, designer Niels Astrup has developed touch sensitive watch that alters its skin according to the needs and liking of the user. Hailed as "Touch Skin," the trendy watch lets you customize its skin according to your needs and likings. All you need to do is connect the watch to your computer via Bluetooth and download the Touch Skin App to get a new skin for it.
Presenting an OLED touch screen, the Touch Skin watch switches the mode, from idle to normal/ night, within no time (about three seconds). If you wanna prolong the battery life, you can set the stealth mode with a gentle tap of a finger on the touch screen, while is moves to the Date mode (for three seconds only) by tapping the screen gently with two fingers. And you can switch between different skins, preinstalled in the watch, by tapping the screen with three fingers.
As the day progresses, the Touch Skin Watch seamlessly alters the shadow on the dial. Users need not to adjust the time frequently, as the watch is automatically controlled by the radio, while the gift box doubles as wireless charger, which straps the watch around it with the magnetic lock to charge the built-in Li-Ion battery.
Featuring the body finished in Anodized aluminum, strap in natural rubber and screen in Gorilla glass, the Touch Skin Watch employs multi-core or ARM processor and comes with an upgradable micro SD RAM to enhance its memory.