One of the problems that most of us face is that you cannot log into multiple accounts on the social media at one time. This can be a problem for those who have more than one accounts. You then have to go through the cumbersome tasks of logging in and logging out. But there are some apps which actually help you get rid of this problem.
2 Accounts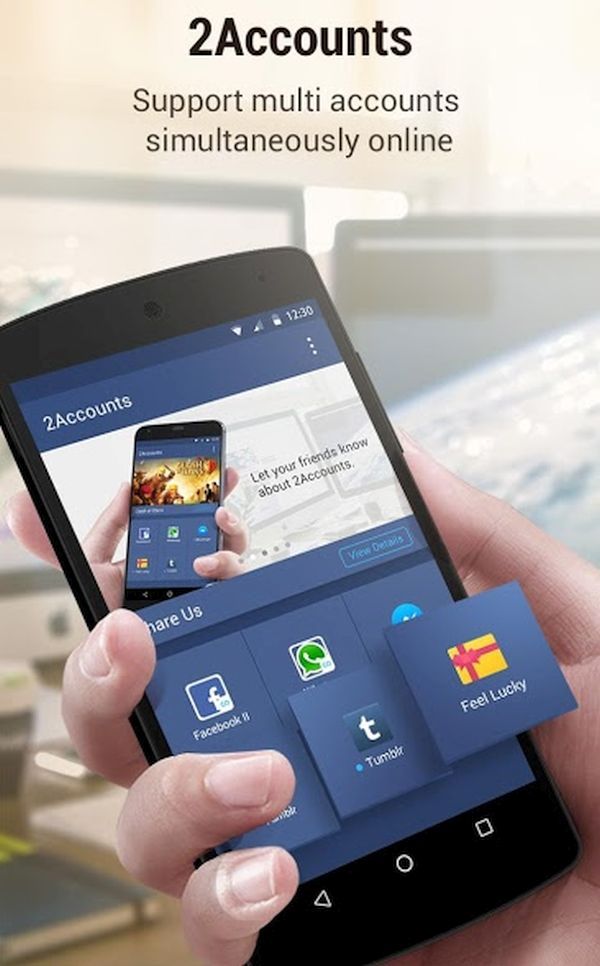 This app helps you use two Facebook accounts, two WhatsApp accounts or two Instagram accounts on the same device. One can use the app for Wechat, Skype etc. Not just apps but you can also use this to create two accounts for a single game. Therefore you can now play your favourite game with two accounts. So this app conveniently reduces the headache of having a second mobile for your second account. If you want some more and better functions then you must try out the new VIP version of 2 accounts.
SwitchMe multiple accounts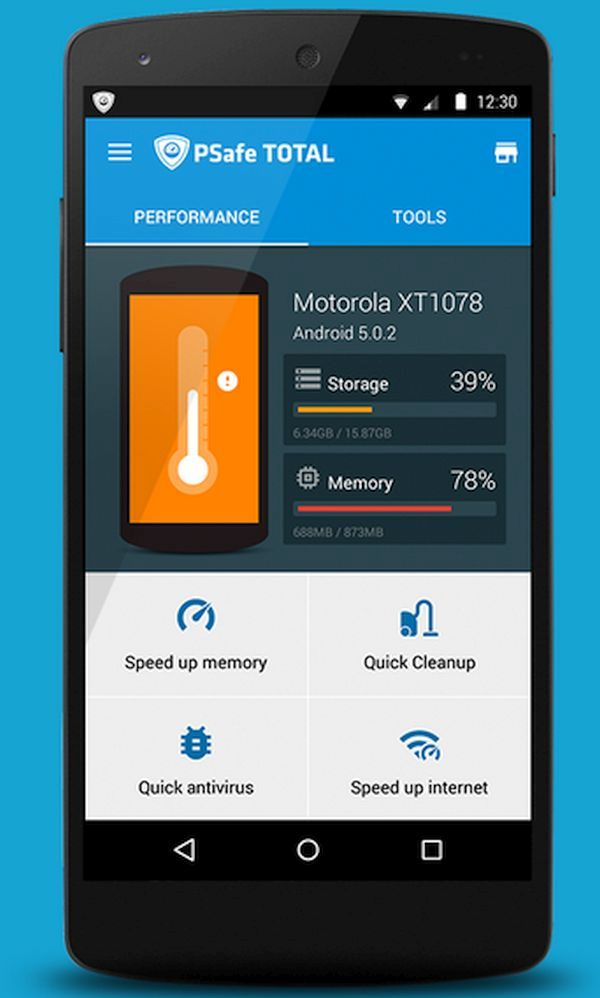 This app which is only for rooted users allows users to access multiple profiles within single ROM. One can create public profiles for family. The app has features which allows to isolate a profile which consumes more power so that other profiles are not slowed down. You can try out the free version which allows the use of 2 profiles. The free version does not have password protection.
App Cloner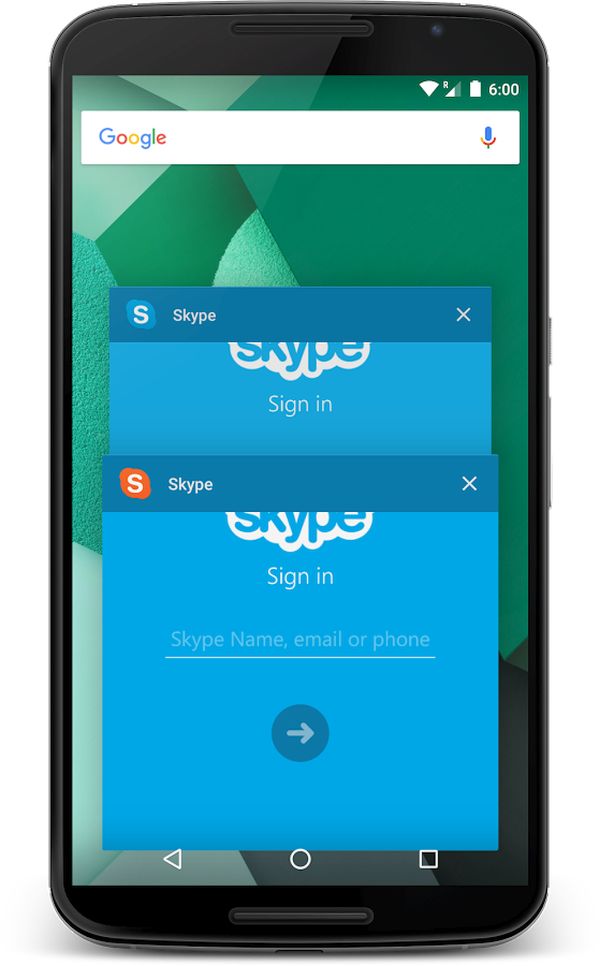 Now you can clone an app with the help of app cloner. The codes are left as it is without any modification. The app cloner just clones or rebundles the app. Due to this one can comfortably manage two accounts like Skype, Dropbox cloud storage etc. Once you download the app you can see all the apps that are available on your smart phone.
You only need to select those apps which need to be repackaged or cloned. One of the major drawbacks of app cloner is that it does not support WhatsApp. Therefore,App Cloner is of no use for those who want to manage more than one WhatsApp account from a single smartphone. This app can also clone games. Select the game,duplicate it and play two different levels of the same game at the same time. There is free and paid version available. One can first try the free version.
Lines for Whazzap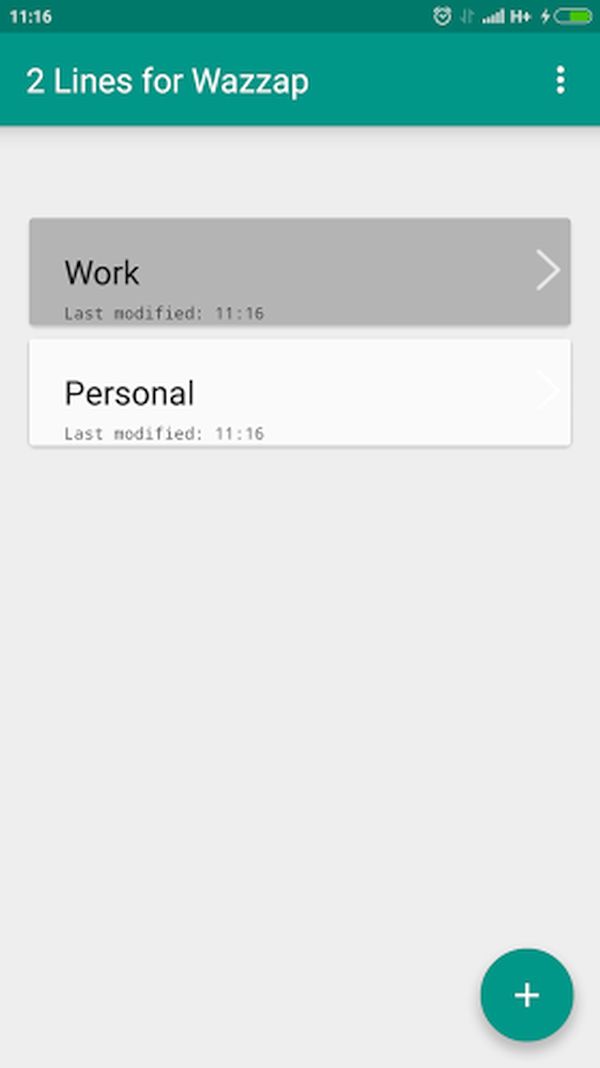 Remember that you will need root access for this app. If your phone does not have root access then it is pointless downloading the app. With this app you can use multiple accounts on a single device. The app is very simple to use. One can easily switch between accounts. The best part is that the entire history and data is stored after switching the accounts.
This app can be used with convenience for dual sim phones. In case of any issues with the app it is advisable to have the latest version of Busybox installed. The app has got some of the best reviews in the online world and seems to be worth giving a try.
Avoid getting into the hassles of handling more than one smartphone for the purpose of multiple social accounts. Use of smart apps can help you manage more than one account from a single handset with ease.
Parallel space multi accounts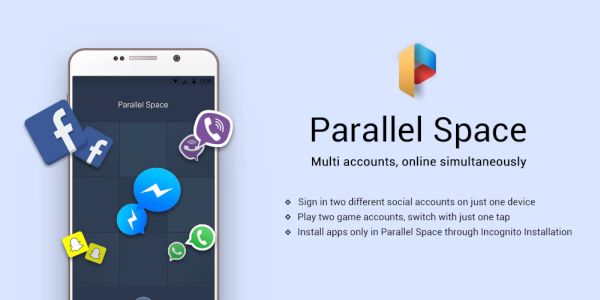 This app is available on Google Playstore. The claim made by parallel space is that one can log into multiple accounts using parallel space and that too in single installation. This app can be used for social media platforms as well as for games. You can create multiple profiles for a game making use of this app.