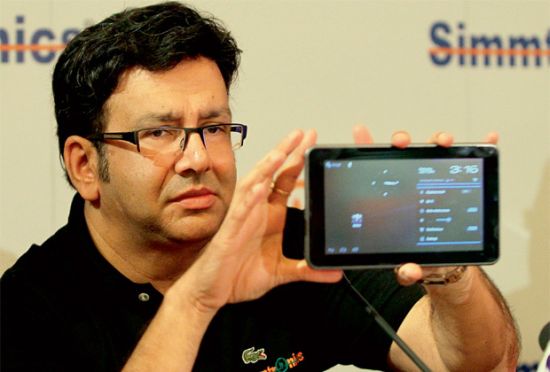 Already selling around 10,000 units a month in the Middle East, India's Simmtronics gears up to go stronger with the launche of the world's most affordable tablet (claimed) in Dubai on Wednesday. Dubbed as XPad, the 7-inch, Cortex Arm8 powered, multi-touch enabled Wi-Fi tablet is the most affordable tablet in the latest XPad series, which is priced at Dhs299 ($81). This Simmtronics tablet already has a current order booking of nearly half a million units.
The XPad comes in 7", 8", 9", 9.7" and 10" versions. Aside from availing regular calling function and high-definition displays, users may also connect to the Internet, printers, high density TVs, or any number of external devices and access their email, movies, videos, music and photos. Other features include 3G connectivity, 1080p high-definition video playback, audio processor, and dual 2D/3D graphics.
A powerful 1 GHz CPU and Android ICS4.0 operating system allows users to perform multiple tasks at high speed. XPad flaunts 4 GB of internal Nand Flash memory for data storage. A Micro SD card provides storage of up to 32GB. Additionally, the presence of the USB and HDMI ports allows for full operating flexibility and larger viewing. The USB Dongle feature brings the connectivity limitations to end.
The company will soon launch another four models with advanced features at the forthcoming Gulf Information Technology Exhibition, Gitex, in Dubai.
Via: KhaleejTimes