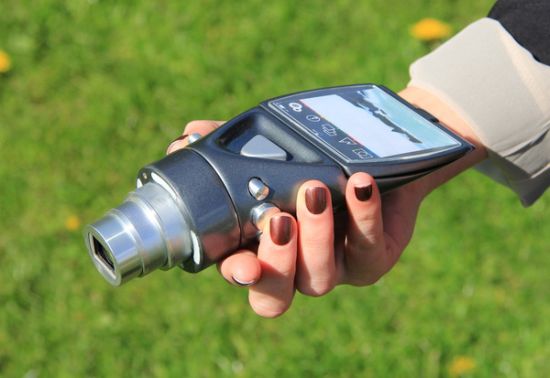 Portable digital gadgets, especially cameras and mobile phones, are difficult to use unless you don't have that nimbleness in your hands, apart from that technical know-how, to move your fingers swiftly across the small keys. Easing the use for people suffering from dexterity problems, British designer Andrew Warner has come up with an innovative digital camera that can be easily held at waist height for easy clicking, if you don't want to lift it in front of your eye.
Dubbed as "Inclusive Digital Camera," the portable device can rotate at 90 degrees, from landscape to portrait mode, to ease wrist and finger movement. Powered by a lithium ion battery, the new digital camera makes use of induction charging to charge the battery. Resting elegantly in a sleek docking station, the ergonomic camera offers Bluetooth connectivity to move photographs to your computer wirelessly with the built-in memory.
Integrating four high-powered flashes to offer an exceptional 360 degree flash, the compact camera automatically rotates the screen interface to switch between landscape and portrait modes. Mounting the screen up to 90 degrees to allow wider shooting angles, the Inclusive Digital Camera is suitable for both right and left handed users, as it locates the capture and zoom buttons on either side to let the user operate camera with one hand in a natural resting position.
Replacing the text with recognizable symbols, the camera makes use of vivid colors to emphasize settings, while the clear, intuitive interface adds fun to photography. In addition, the digital camera makes use of magnetic attraction that auto-centers and secures the device, when placed on a hi-tech tripod for hands free clicking.
[Cheers Andrew]