Are you tired of using and cleaning the same old thermometer to check your kid's body temperature repeatedly? No matter how many times you clean it, the old thermometer may carry many germs that are not killed even after a wash. Thus, to keep germs at bay and track accurate body temperature, Zeraph and Eddie Cheung have created the Flo contact-free thermometer.
This smart monitor for body temperature runs on Bluetooth technology. Moreover, this easy-to-use thermometer comes with a companion smartphone app that keeps a recording of temperature and comes with several other useful features. Let us find out more about Flo.
The concept
The creator of Flo smart thermometer, Eddie Cheung, felt parents' worries when they needed to keep a track of their children's body temperature during fever, and that too, without waking them up. In fact, some naughty children are difficult to control when their health is just not fine. Another concern is to transfer germs from conventional thermometers when these are put inside a kid's mouth.
Thus, Cheung came up with this brilliant contact-less thermometer concept that works on Bluetooth technology and keeps a track of subsiding temperature, as well as helps you know whether your given medicine is working on your child or not. Hence, it is a smarter and better way to note down body temperature from time to time. In fact, the device is designed to capture the temperature of milk and other liquids, as well as objects in the same way.
How does Flo work?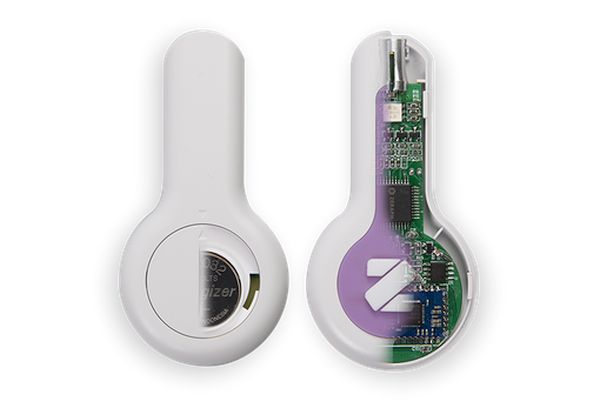 Instead of placing Flo in the mouth of your child or another family member or contacting it with skin for taking the reading, Flo is meant to work from a slight distance from the forehead of a person. Yes, with this simple gesture of holding it close to one's forehead and pressing a button, the device will be able to offer an accurate reading of body temperature by turning green for normal, red for high temperature, and white for temperature lower than normal. You can see this change on its LED screen for indication.
Besides that, the device also sends the collected information to a connected app on your smartphone, unlike most infrared thermometers. The mobile app generates readings on its timeline to provide the graphical interpretation of collected data. This is how you can have a clear idea of the changing body temperature at different timings and for different individuals. Flo also has an audio mode when you do not want to pick up your smartphone and check the readings. You can simply listen to the readings by pressing a button.
Adding fun to healthcare
The Flo app offers an easier way to create yours, as well as your family members' profiles in order to monitor each person's health from time to time. Besides being a regular healthcare device, Flo is meant to add fun to your healthcare regimen. It is more of a social thermometer that can transform boring temperature readings into fun stories, including the messages from your loved ones.
It offers you a platform to share temperature readings with the pictures of individuals, while tagging your friends in these pictures and adding locations to them. This way, you can keep your loved ones updated about your health so they are not worried all the time. The device is additionally quite helpful in capturing body temperatures of females during their ovulation period. This helps them gather useful information if they are trying to conceive.
Flo is a smart thermometer that performs well when it comes to capturing one's body temperature in a hygienic and accurate manner. This small and lightweight device is compatible with iOS and Android platforms and becomes useful in daily life in a number of ways.
Source : KickStarter.Com