Backpacks, rusksack, knapsack, whatever you call them, are very convenient to carry load. Though meant for carrying load, many backpacks are designed to increase the cool quotient by adding new features to them. Some can play music, while other can change into an umbrella if the need arises. Many cool and sometimes quirky designs are given to these humble backpacks, to make them more interesting for you to carry them.
It is a backpack, a beach towel, an inflatable pillow, and speaker, all rolled into one. It is compatible with iPhone, mp3 player, or any other audio source. Powered by rechargeable batteries, these speakers will last for hours. So what are you waiting for? Just hang this fun bag on your back and enjoy the beach holiday.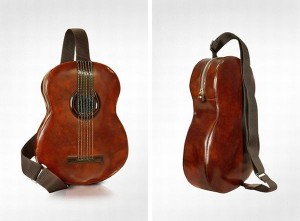 Is it a guitar or backpack?
Styled to look like a guitar, the Pratesi Guitar Backpack is made from vegetable-dyed calf leather. It is available in black or brown color, and has an adjustable strap that looks just like the neck of the guitar. Meant for music lovers, it has a built in speaker, connects to mp3 player. It has inner slit and zip pocket to carry your things.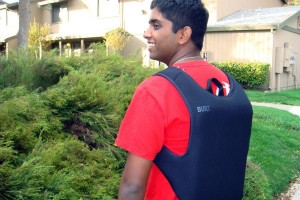 These durable, lightweight, sleek bags let you carry your laptop in style. They safeguard your laptop and accessories without weighing you down, and look good too. It has a slim design and can stretch and fit to a range of laptops. It has three compartments, one for laptop, other for accessories, and there is a shoulder strap pocket. This water-resistant backpack looks like a bulletproof jacket when worn.
KATA Photographer's backpack
This sling backpack combines a versatile, professional photography bag with optimal weight distribution. The back can be easily swung around from back to front for your unexpected photography moment. You can quickly draw the camera and remove accessories using quick release clip. It gives complete protection to your cameras, which can be arranged in the bottom main compartment. Your personal items can be stored in the large upper compartment. There are internal pockets, and mp3 player pouch. Dividers can be unzipped, allowing the back to be used in many different ways.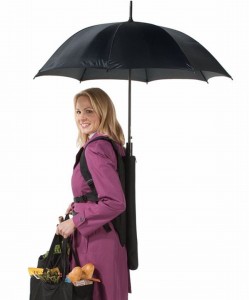 Wear the umbrella on the back, while keeping the hands free. When you want protection from rain or sun, unzip the pack, remove the umbrella, and attach it to inbuilt adjustable support that slips over the shoulder and secures around the waist. It takes seconds to deploy, and gives complete protection to the wearer with 39 ¼ "diameter canopy. When the weather clears, the canopy can be collapsed and stored again in the bag. Your hands remain free for carrying packets or dog's leash when you go out of your house.