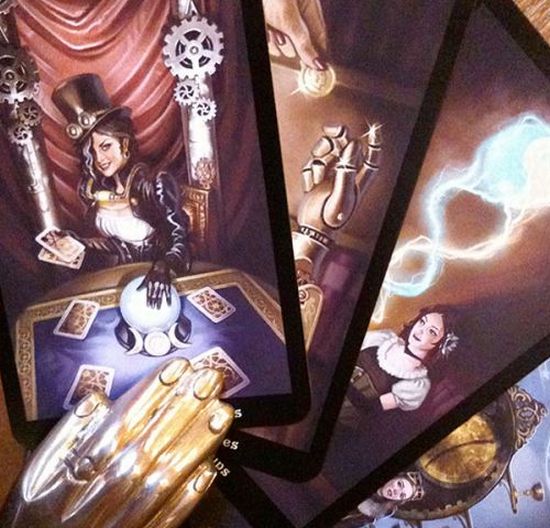 Seeking to mingle your future with the forgotten charisma of yesteryears, tarot readers might soon lure you with a steampunk-inspired pack of cards. Conceived by award-winning tarot expert Barbara Moore and realized by famous illustrator Aly Fell, The Steampunk Tarot reveals your fortune while combining history and astrology. You'll sure love the Victorian aesthetics that is so evident in the imagery that forms and envelops these cards. Powered (inspired rather) by steam, the gears and mechanics allows the deck to reflect future concerns of people who fall for prophecies.
The novel pack of cards comes with a book to assist aspiring tarot readers to understand the science behind predictions. While discovering newer symbolism and implications of each card, users might as well learn the tactic to deliver perfect calculations and prophecies. Be it the Magician, the High Priestess, the Ace of Cups or the King of Wands, all are adorned in a steampunk themed persona to fetch the right nuances of your future. Moreover, you'll find the Queen of Pentacles and the Six of Cups follow your mood with immaculate precision as you wave your hands.
However, before you make your mind up to go with these unique, Victorian age inspired decks of cards, make sure to visit Barbara's profile page , her website  or blog to learn more about her.  If you are in for fetching one, hit this link to place your order for getting a Boxed Kit, a 312 pages book and a knowledge base of exclusive tarot tricks.