Remember the days of CD-ROMs and floppy disks? Those were the days when computers were mysterious devices that only scientists and few mad programmers used to own. Transferring data from one machine to another was one big hassle though and thanks to the invention of USB flash drives we can easily share data among ourselves. The focus has moved from function to form though in recent few years and below we list out five such unique USB drives that will surprise you, will make you laugh or you would simply say, wow!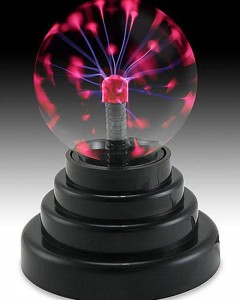 USB Plasma Ball
Many of us have been fascinated by plasma balls since childhood especially seeing those black magicians looking into the crystal ball and looking into the future. This Plasma ball is a mini version that you can keep on your desk or even cubicle in office. The Plasma Ball is connected to your computer through a USB cable which provides current to rid gases such as Argon inside of their electrons leaving behind electrically conductive atmosphere, in this case Plasma.
USB Visomate
It is a global truth that most of us intend to sit in correct posture in front of our computers but as time passes by we become unaware of our posture leading to a number of back and neck problems. All you need to do is place it on your monitor and plug it to the USB port. If you're within the recommended range to your computer it shows the blue light and starts to flash and chime as soon as you bend towards your computer screen.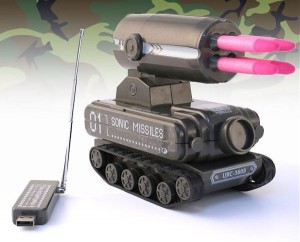 USB Rocket Launcher
If people at your office have been troubling you at work, nothing better than this wacky rocket launcher to take your revenge. This USB device comes with software that helps you to set the target location and fire. The rocket launcher enjoys 360 degrees freedom of rotation horizontally and 45 degrees vertically. The range of you missiles is up to 6 meters.
USBCell
Thanks to USBCell you don't have to run every time to a shop when one of your wall clocks or LED torch runs out of battery. USBCell is a standard AA battery that can be charged by plugging to your laptop or computer. Since, we know you spend a lot of time on your computer you won't run out of battery again.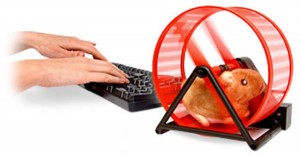 USB Hamster Wheel
USB Hamster Wheel is one mischievous device that allows you to play with your hamster stuck on the wheels as you wish to. As soon as you plug the wheel to your computer and start typing on your keyboard, the hamster begins to run on the wheel. Depending on your typing, the hamster can go as fast as 88 miles per hour.