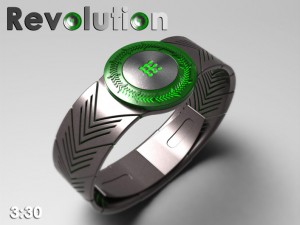 The concept 
The new Revolution LED watch is unique in its style, design and element. The design is bright and flashy as well as cool enough to appeal people from all age group. Unlike any other watches with dials and other common watch material, this Revolution LED is a completely new phenomenon in the world of watches. Designed by Peter from UK, this watch uses bezel not only for styling element or for measuring and setting a period of time, but it is used as the main time telling material. Besides adding a tactile quality along with a little detail, Peter has used bezel for performing one of the most important functions in a watch.
The purpose
The watch is designed in such a way that the time is indicated by the LEDs, which are shaped like arrows forming a ring and are placed beneath a transparent bezel. You can see the time with the help of the illuminated LEDs in the format of an analogue. The smaller arrows indicate the minutes and the larger arrows are for the hours. People who are in constant need to check their watches even when they are in dark places, then this could be the real watch for them. Sleek, stylish and full of benefits.
The feasibility
This unique creation could become the charm of the younger generation, a style statement for the socialites and a beneficial item for a particular group of people. As a whole, this product got an element of universal appeal and as its proportions are neither big, nor small, it is considered as unisex.
This flashy watch with its intuitive and creative time-telling method has already started to gain a reputation around the world. However, what makes the watch totally unique is its bright and shinning LEDs that sparkles through the colorful bezel to tell the time. This adds an element of creativity as well as fun to this unique creation by Peter.