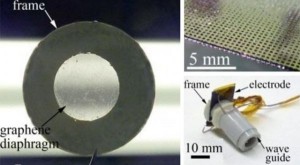 The University of California, famous for its habit of surprising us with its technical and scientific innovations, has come up with a groundbreaking, new type of ear buds. The specialty of these ear phones is that they are made from graphene. The researchers involved in the making of this awesome new audio speaker used graphene as the main element because they have found that it is more efficient in conducting frequency responses than Sennheiser ear phones. Alex Zettl, a professor of UC and a part of the research team, finds it difficult to tell if his team is working or having fun, as they mostly have the ear phones on.
Generally ear phones work by vibrating a diaphragm made of thin paper and creates pressure waves on the surrounding air. The frequency of these pressure waves determine the sound that is created. The human ear cannot pick sounds of all wavelengths. It is capable of picking sounds between the frequency of 20Hz and 20 KHz. The diaphragm of the Berkeley's graphene earphones is made of graphene sheet of 7 mm width and 30nm thickness. The diaphragm is put between to silicon dioxide coated silicon electrodes. These silicon electrodes make the ear phones tougher. The electrostatic forces created by the silicon electrodes help in making the diaphragm vibrate.
What are the benefits of these ear-phones?
Graphene is being called a wonder material these days and the ear phones made from it is giving high quality performance.
The simple brilliance of the diaphragms of the graphene ear phones is the reason for its high-quality performance. Unlike the diaphragms of other earphones these earphones do not need to be padded.
The graphene is very strong and gives unique thinness to the diaphragm.
Why is it so special?
Instead of superficial padding the diaphragm is padded by natural air.
Superior sound quality makes it stand apart from all other ear phones.
This ear phones consumes very little electric energy.
How will it change the way the world hears?
These earphones are neither optimized nor tuned yet they give better performance than most of the similar products in the market today. The elimination of superficial padding and use of an unconventional, new material has given an edge to this product.