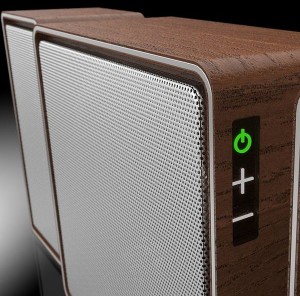 AT&T approached SCAD with the idea of giving them the task of evaluating and researching various designs in the current market and developing a unique line of products in order to form a brand language suitable for AT&T. Therefore, that is when Re.tro was introduced as the sophisticated and high end line brand for office, home, phone accessories etc. Re.tro combines the design elements used in the mid-century with raw aluminum and rich walnut in order to produce versatile and stunning products for the younger generation professionals.
Vacuum Coffee Machine and Cube Speaker Design
The process employed in a vacuum coffee machine has been used for hundreds of years for brewing coffee. Keeping the primary coffee brewing mechanism in mind, a very modern and sleek coffee machine has been modeled in Alias with specified manufacturing. On the other hand, the Cube Speaker Design is a type of premier sound system, which has been packed into a retro inspired small package. Its clean rounded edges along with simple lines will immediately remind you of the mid-century sound system designs, whereas the screen touch control, aluminum parts and Bluetooth connectivity reflects the modern technology. Therefore, this cube speaker can be considered as a perfect example of both classic and modern designs.
However, besides those precuts, Re,tro has also introduced various other unique products which are also  built by combining mid-century and modern day technologies. This endeavor to remind ourselves of the yesteryear's common designs along with the touch of modernism has been successful in attracting attention from the current market. Their resulting products are not only unique and creative but can also deliver impressive performance. It is also a great way to remind us of our forgotten past, which has enabled the present day world to reach the current technological heights. The products are also a tribute to those designers and engineers who actually set the foundation of the modern day technologies.