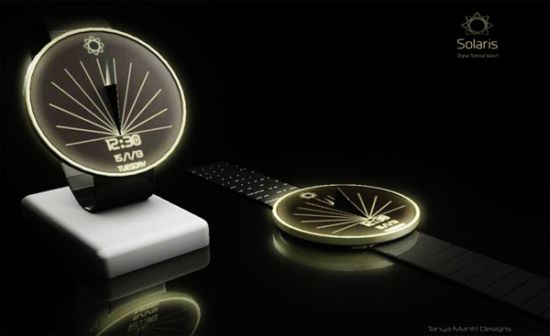 Inspired by the Sun, Indian designer Tanya Mantri has come up with a gen-next digital watch called the "Solaris" that is not only presents a contemporary and timelessly design but also maintains the conventional essence. Made using eco-friendly material, the Digital Sundial Watch as the name suggests generates power by solar energy.
Running on solar powered batteries capable of harnessing energy from even dim sunlit zones, the digital watch continues to work seamlessly even during night time through the energy stored within the batteries. Presenting a time conversion display that presents World Time with a touch of a button, the sustainable watch comes with digital 3D Sundial which not only looks good but also works smoothly.
Combining the state of the art glass display and metallic gloss to add style and elegance to the wearer, the wristwatch incorporates the SSR (Sun Shadow Reader) program to work with the position of the sun around the earth. The SSR program further converts the time into a digital shadow. Featuring unique design and function, the Digital Sundial appears much like a regular sundial, barring its ability to work indoors, outdoor and at night efficiently. No matter, if the watch is exposed to the sun or not, as it works round the clock to keep you updated with the time.
Integrating LEDs within the dial, i.e. inscription, rim and shadow, the Solaris keeps changing the digital shadow or color throughout the day according to the position of the sun. Displaying date and day on the sundial, the Solaris is wholly solar powered which uses sunlight to charge up its cells to work smoothly all through the day. The dial of the solar powered wristwatch turns blue at night for better visibility, while the built-in alarm lets you set reminders to complete your important works in time.
[Cheers Tanya]