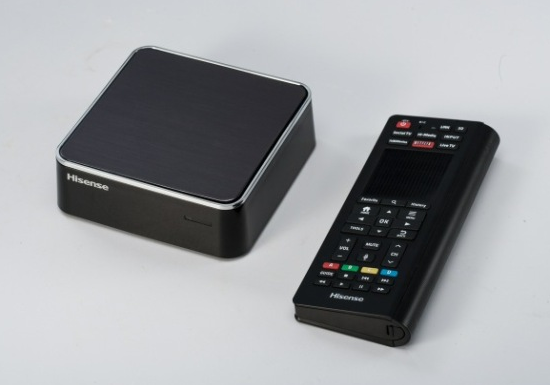 Chinese hardware maker Hisense has just recently joined forces with Google while aiming to make inroads into Google TV collaborators' list. For Google TV, it has announced the release of a set-top box that supports various inbuilt apps to display web content with a perceivable difference. Dubbed as Pulse, the all-new set-top box allows users to connect to YouTube, Netflix, and Pandora. Inbuilt apps include Chrome, Google Play, Search, TV & Movies.
Aside from featuring regular connectivity options like HDMI, USB, built-in WiFi, Ethernet port etc., which you could find in other Google set-top boxes as well, the Pulse will have a double-sided remote control for providing ease of use to users. The remote control will flaunt a touchpad and Netflix button on one side, while, on its other side, you will see a QWERTY keyboard. For ensuring that users may enjoy any video format, the 4.5 square inches and 1.5 pounds set-top box will support H.264, MPEG-4, and AVC formats, combined with high resolutions up to 1080p.
Scheduled to make its maiden appearance at the IFA tech conference in Germany next week, the Hisense Pulse will begin shipping this November, with an expected price tag of $99 or less.
Via: CNet