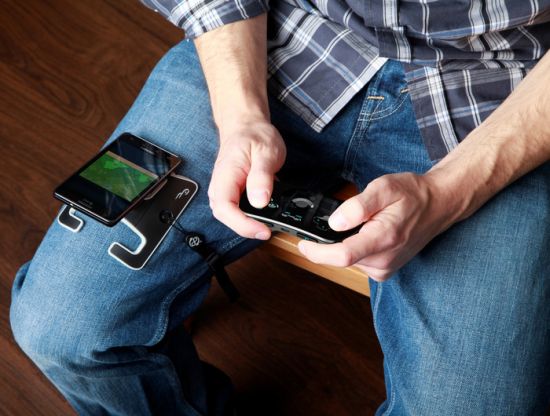 Folks at Evolution Controllers have garnered tremendous response for their Drone "DMND" iControl device as they're asking prospective backers to support their fundraising campaign at Kickstarter. Their conception – a real device, in fact – is a portable, open source Bluetooth game controller for smartphones and tablets.  Thanks to Arduino platform that the controller relies on, now users can use their tablets as TV using this device.
Flaunting a tilted/curved face, bottom contour scoop, and angled sides, the game controller uses a standard button layout.  Owing to its solid construction, users may carry it anywhere without worrying about it getting scratched or dented. Users may disassemble the bottom four screws and solder the device to suit their requirements if they feel like customizing the controller.
Since certain injection molded parts and quality electronic components need to be slotted in before they actually start manufacturing the Printed Circuit Boards, the developers are looking for support. Further, developers plan to design and manufacture custom packaging with detailed graphics to complement the controller. Other features include customizable PCB board/layout, SPI connector for advanced software features, and a 16 pin "breakout" header for accessing all the pins including the X,Y of the Joystick.
With 23 days to go, the Drone "DMND" iControl has been successful in collecting $4,626 out of its pledged $60,000 goal, from 60 backers.