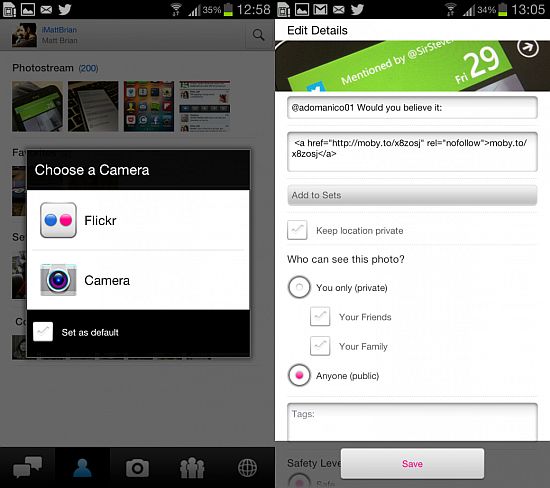 Flickr has finally revamped its Android app by including a new tab bar that which allows smartphone users to edit image metadata and explore images in newer ways. The version 1.5 ensures a Windows Phone style navigation that ensures better swiping function when it comes to access photos and menus. Moreover, the newly included Explore tab helps one to enjoy interest- and location based grouping of photos.

The iOS-inspired tab bar enables users to see notifications related to their profile. The special 'Pull to Refresh' feature that places your recent notifications and uploads at the top of the window, also owes its origin to iOS apps. Other features include photo library search, camera and upload options and choice to opt a particular camera app. Now users may edit HTML content in comments and descriptions as well.
Now, with this app installed on their Android smartphones, users may share their photos with friends on Facebook, Twitter, via email and other social sites. Custom filters are there to enhance a particular image. Last but not least, you may enjoy full screen browsing and slideshows as well.
Via: TheNextWeb