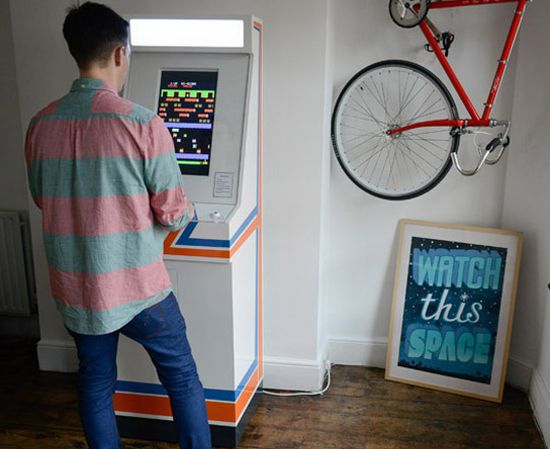 Conceived and created by UK designer Tom Goodfellow, the arcade coin-up cabinet adds a modern touch to otherwise traditional cabinets used by gamers in the olden days (not the times of yore). With his DIY Replay Arcade, he aims to bring back the charisma of the 80's when gamers used to find the 8-bit soundtracks irresistible. His cabinet includes proper buttons, joysticks and no less than 60 built-in titles.
In below pictures, you can see stripe graphics adorning its exterior which are embedded into the cabinet. The arcade cabinet has ample space for accommodating a PC inside it. Be it running MAME or playing complimentary 60-in-1 classics game board, the DIY Replay Arcade responds to your wishes positively. A cool coin mechanism allows users to insert coins and get credits. The coins are collected in a coin box slotted in the machine. Those who consider this mode as an outmoded one should opt the Freeplay Mode.
Definitely, it's a treat for gamers who don't frown at retro gaming devices and cabinets.
Via: ApartmentTherapy