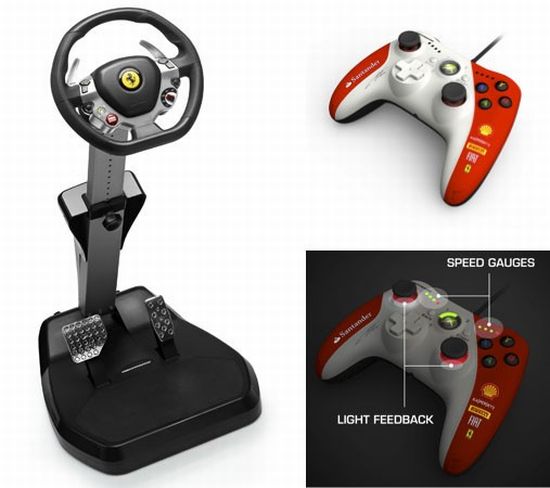 Flaunting an 11.2-inch replica of the Ferrari 458 Italia's steering wheel and a d-pad styled engine start button, the Ferrati Vibration GT Cockpit 458 Italia Edition is sure to provide the great thrust to Thrustmaster's, the world's top maker of premier video game controllers, earlier versions. You could see, in the above image, turn signals replaced by A, B, X and Y buttons for ensuring user's comfort. The entirely foldable GT Cockpit with metal paddle shifters and a deadly 16-bit resolution guarantees unparalleled gaming experience.
Weighing just (?) 22 pounds, it offers better stability and balance when compared to its predecessors. Moreover, an adjustable steering column attaches the new wheel to a base that features a pair of stamped steel pedals – not adjustable. The easy to assemble contraption can be plugged into your console sans any external assistance.
As far as user experience is concerned, the rig provides great stability and effortless gear change. The wheel on the Ferrari Vibration GT cockpit 458 Italia edition incorporates G.V.S. (Global Vibration System) technology, allowing for the high-frequency vibrations from the motors to be felt not only on the wheel itself, but also throughout the cockpit's entire steering column and pedal set.
Those who cannot wait to lay their hands on the Ferrari Vibration GT cockpit 458 Italia edition need to wait until September, when it will finally hit stores at a suggested retail price of $299.99.
Via: Engadget