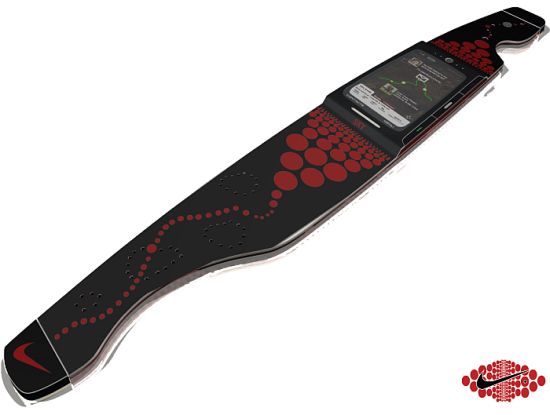 Portland-based industrial designer Cubby Golden knows it well why athletes (runners especially) need to stay connected with fellow-runners on the move or through rigorous training sessions. Accordingly, he has come up with the Nike+ Phone that allows runners to orchestrate and share their training stats with others by utilizing a whole array of applications. What a user needs to keep pace with others is wrap the slim phone around his wrist and track others' performances as well.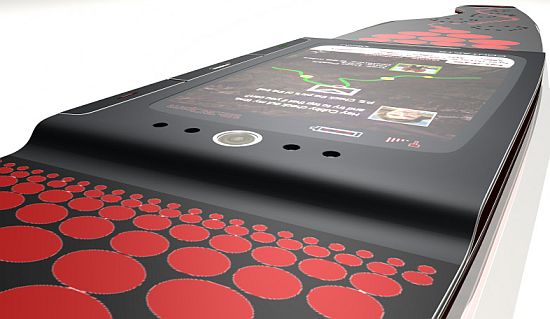 With this social networking cellphone, runners can compete with others in real time while capturing images on the run and locating nearby trials, tracks, and gyms. The Nike+ Phone has a simple touchscreen interface that enables users to connect to friends promptly. A speaker and primary camera above the screen help users do LIVE one on one chats with friends. The phone also features a secondary camera on its transparent, flexible rubber strap, for capturing images. The rubber strap has mini pores to maintain airflow.
If you feel like tracking your sprint time, you just have to adjust the stopwatch by pressing the Stop and Start buttons (on the RHS of the screen). Further, you can upload workouts, times, tips or images from run, and share the same with fellow athletes anywhere by using the Connect button. You may email the same to your friends.
You could see (in images) a mic below the screen to assist picking up voice commands. The Nike+ phone will come bundled with a wireless headset to allow you enjoy unparalleled connectivity absolutely handsfree. So, stay connected on the move with the Nike+ Phone.
[Cheers, Cubby Golden]