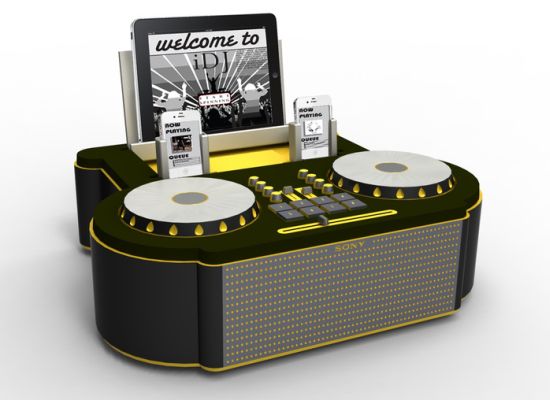 What you see in above image is the first ever all in one mobile DJ unit that lets you play and mix music from any of your iDevices. Equipped with an inbuilt speaker, the iDJ system eliminates the need of connecting it to PA or external speaker system. However, if you prefer to follow traditional method, you may plug RCA output wires into the dedicated slots on its rear.
Designed by Ryan Lynch, the iDJ system is a clutter free contraption that converts your iPad, iPod or iPhone into an integrated touchscreen control system by utilizing a free downloadable iBeats app. The compact unit features foldable iPod/iPad shelf, which can be fold flat to minimize its size. Thus, for storing it, you don't require much space and you can carry it with you with extreme ease.
A 12V AC cord supplies power to the iDJ unit. A flawless design, neat ergonomics and a compact form factor do well to deliver a high performance device for modern DJs.
[Cheers, Ryan Lynch]