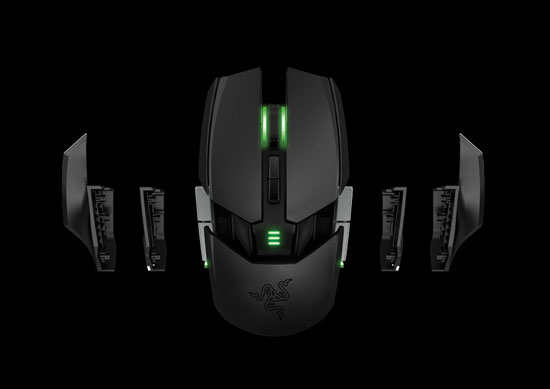 You don't seem to be like those gamers who still find playing using conventional gaming mice more interesting than the far better, modern, high-end gizmos. If I have guessed it right, you'd be more than pleased to know about Razer launching an ergonomic, ambidextrous mouse that's fully customizable to suit all users' gaming needs, any hand size and grip style.
Dubbed as Ouroboros, the gaming mouse has three adjustable parts: transposable side panels for altering the footprint of the mouse to suit claw, palm or hybrid grip styles, adjustable length to match any hand size and a back arch to ensure palm support for gaming comfort and endurance. Its adjustable palm rest is capable of moving up to 0.9 in. (20 mm).
From Press Release:
Its enhanced sensor technology is capable of up to 8200 dpi, and a dedicated, built-in dpi clutch trigger button ensures players can achieve pinpoint precision when needed. Powered by a single rechargeable AA battery, the Razer Ouroboros ensures a minimum of 12 hrs. of drag-free, lag-less play. Adding even more versatility to the mix, Razer has also included an upgraded, award-winning 4G Dual Sensor System, and gaming-grade, 1 ms wireless technology, providing the option for wired or wireless use.
"Designed for excellence and total ownage, the Razer Ouroboros was intended to be wielded by all serious gamers looking to win any FPS, RTS or RPG with custom-made dominance," said Robert "RazerGuy" Krakoff, president of Razer USA. "We are proud to introduce it as Razer's first gaming mouse that features optimized, customizable, ambidextrous ergonomics that better fit the curvature of any and every hand size and personal grip style by delivering ultimate comfort, control, power and built-in intelligence to ascend to gaming immortality."
Price:
U.S. $129.99 / EU €129.99
Availability:
Razerzone.com – Q4 2012
Worldwide – Q4 2012
Product features:
Customizable ergonomics to fit all hand sizes and grip styles
8200 dpi 4G Dual Sensor System
Gaming-grade wireless technology with dock
Razer Synapse 2.0 enabled
11 programmable Hyperesponse buttons
1000 Hz Ultrapolling/1 ms response time
Up to 200 in. per sec./50 g acceleration
2.1 m/7 ft. braided fiber cable
Approximate Size : 116 mm to 136 mm/4.57 in. to 5.35 in. (length) x 71 mm/2.80 in. (width) x 42 mm/1.65 in. (height)
Approximate Weight: 115 g/0.25 lbs. (without battery) to 135 g/0.29 lbs. (with battery)
Battery life: Approx. 12 hrs. (continuous gaming)