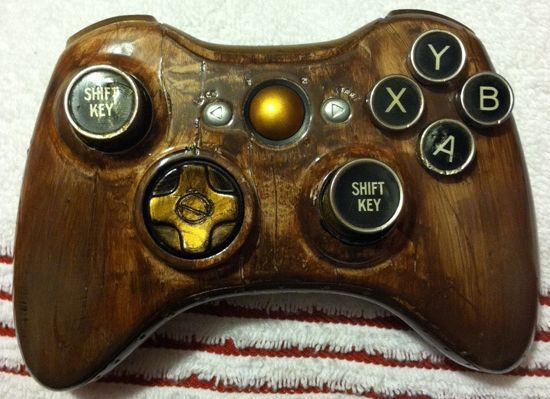 Yesterday we let you know about the Halo 4 Xbox 360 console, controller that promised to redefine your gaming experience when Halo 4 finally hits the shelves. However, if you can't wait that long and wish to lay your hands on an equally impressive Xbox 360 controller, what you need to do is head over to ebay where you could find a glossy (not that glittery actually), steampunk inspired Xbox 360 controller listed for auction. Do it now since the auction ends tomorrow and the price has already moved toward the $251 mark.
Created by ebay seller trioxin_kustoms, the apparatus flaunts a neat makeover of 1940's keyboard keys to satiate modern gamers' supposedly 'retro' fancies. It's a cool gear that deserves your attention for sure.
The process for creating the custom hand painted Xbox 360 steampunk western controller involves disassembling a modern controller. Then it was cleaned and hand-painted to flaunt a wooden frontal finish before its final assembly. The back side has an old steel look, while the right and left bumpers look a lot like aged brass. 'High quality urethane automotive clear' envelopes the controller to offer an extraordinarily-done gaming aid. Now coming to it steampunk inspired part of the controller, the keys from an old 1940's typewriter replace action buttons that harmonize beautifully with controller's joysticks made out of old shift keys.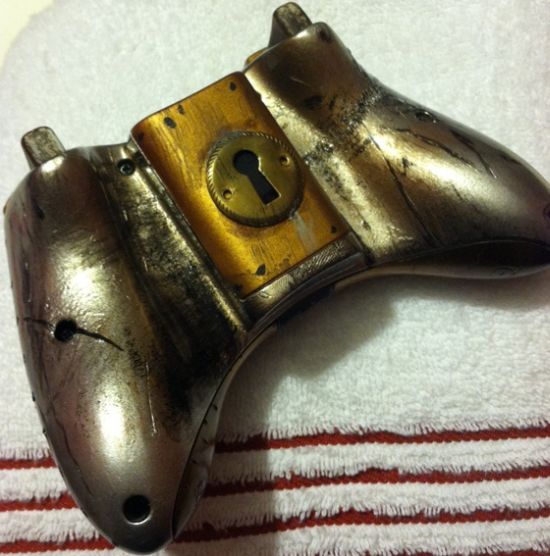 Via: MTV Geek!