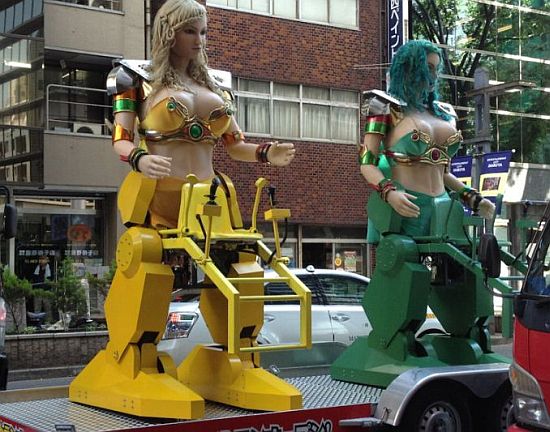 At the £83 million Robot Restaurant in Kabuchiko in Shinjuku, Japan, you could see fem-bots dancing for you for 3000 Yen (£25) only. The user-operated robotic women are created from plastic and have mechanical lower halves that incorporate all necessary gear like joystick, etc. to allow customers to operate the fem-bots. When operated through the dedicated joysticks by women dressed in military and other outfits, the womanly robots perform impressive cabaret dance.

As Japan Today reports it, the robots are inspired from the character Valkyrie in Soul Calibur. Apart from watching the robots in action, customers may also enjoy drinks and Sushi, which are served free with the entry ticket. Moreover, there are Japanese taiko drums, a marching band, a bike performance, robots, tanks, and a B-52 lined up for wooing more clients.
Anyway, if you wish to see one of these robotic women dancing for you, all you need to do is visit Robot Restaurant and see them performing twice a night from Monday to Saturday.