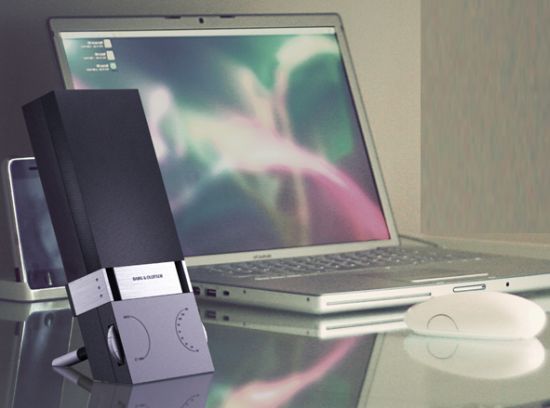 Guillermo Callau, an industrial design student at the Universidad de Buenos Aires, Argentina, has conceived a radio dynamo that complements modern office executive desks perfectly. The concept radio dynamo, dubbed as TP2 Radio Dinamo, borrows its design philosophy and order morphology from Bang & Olufsen, while seeking to achieve perceptive quality, simplicity of form, technological edge and elegance.
Since the dynamo is meant to add substance to modern desktops, it had to be of equivalent height. With this in mind, designer made sure that his contraption has a strong presence sans any visual distraction to the user. The concept radio dynamo has a charging handle, fixed by clamps to maintain sense of balance. The charging handle of the battery was integrated into the very structure of the radio. For using it, user has to release the load wheel by pressing the clips with two fingers. Next, one circular, clockwise rotation of the gear lever implies five rotations of internal engine that provides five times more charging. Ten minutes of manual loading generates enough charge to provide one hour of power.
Now coming to its audio part, the speakers are covered by a cloth to protect them from dust and impurities; however, it doesn't block the audio waves. The volume up/down button is created from molded ABS housing. The control knobs and clamps are made of stainless steel. A red LED is there to indicate the knob's position.
The product, once it comes out of the concept stage, will target affluent users who are all ears to technology and quality.