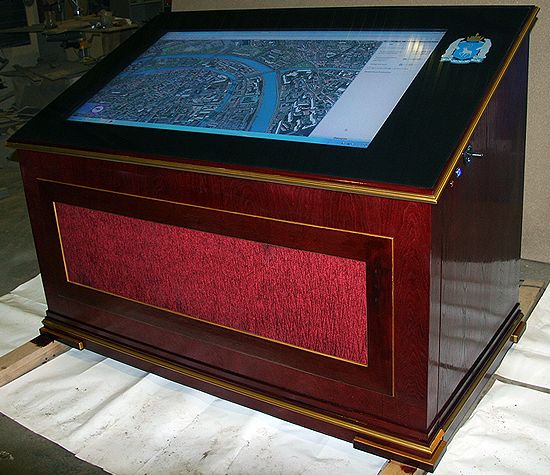 With its aim to deliver highest standards in quality and performance, Xport Media has been offering multitouch products to its customers in Russia and other CIS countries. The Russian manufacturer has now come up with an interactive, multitouch presentation table that features a 65-inch, 1920 x 1080 pixels LCD panel to allow users to control the software with their hands. Made from collapsible metal, the table flaunts an inclined interface with dimensions reading 1700 mm x 1000 mm x 1100 mm. The Series STY multitouch table comes adorned with an array of red wood, polyurethane varnish layer and a decorative gold leaf painted on its surface.

The touch table runs on Dual-Core Intel QUAD processor that really jazzes up user satisfaction. Its 4096 MB of internal memory, 1TB hard drive and 1GB graphics card memory ensure ample memory and fast processing as well. Other features include Windows 7 Ultimate operating system, unique network interface card and sound card. The sound system incorporates Harmann Cardon and JBL Pro full range speakers, subwoofer and tweeters as well. Dedicated USB 2.0 slots for microphone and headphones ensure that you have a fulsome acoustic experience. You could see (in the images below) power and reboot buttons on the peripherals of the table.
Xport Media's proprietary software enables debugging and smoother calibration. UPS allows 40 minutes of power back up. The Series STY interactive multitouch presentation table is priced at 79900 Euros. The package includes a wireless mouse and keyboard too.