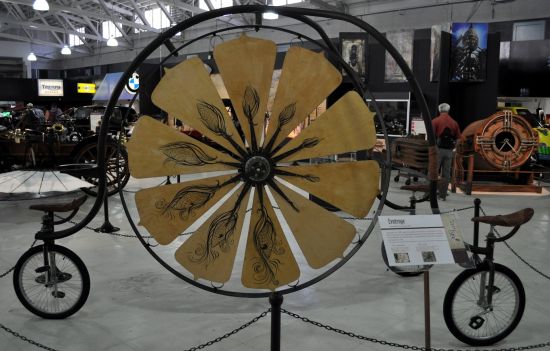 The San Diego Automotive Museum, in Balboa Park, has become a huge Steampunk showground nowadays where you can see 19th century vehicles lined up to attract viewers' attention. The Steampunk exhibit asks all to think beyond regular car shows while taking one back to the Victorian era. Here, you could see a dozen of steam powered vehicles playing perfect foil to handmade robots, ray guns, weapons and similar devices, created from recycled materials.
Not that impressive as to remind you of Icarus's maiden flight, the winged 1909 International (Harvester) Certumulas "Duo Stupra" goes on to express the Victorian dream of a flying car. With white wings attached on both sides, the Steampunk auto deserves a fleeting glance for sure.
Paula Brandes, executive director of San Diego Automotive Museum, says…
It's a complete departure from our regular car shows. We are inspiring people to think.
Equally remarkable is the Evotrope with its three tires rotate in tandem with an inner fan-like contraption. The pedal-powered flying machine (won't call it an auto, for sure) is crafted out of a 1974 Honda motorcycle rear aluminum hub, plasma cut steel and brass fasteners.
Via: UT SanDiego