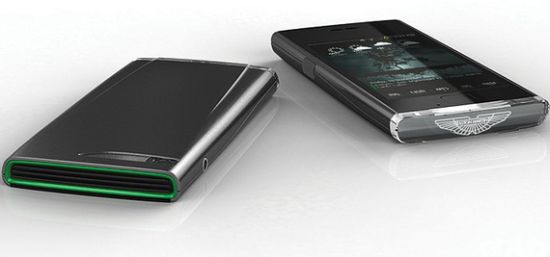 Romanian designer Paul Stet has conceived a decent looking cellphone taking cue from Aston Martin's winged logo design. The concept Aston Martin cellphone exudes grace that emanates from its flat, thin peripherals and a soft, round surface. The Aston Martin supercars fans would love its metallic finish and transparent acrylic block that sits so nicely over the logo.
Now, since the designer hasn't revealed much about his concept, we need to make some guesses on the probable UI and OS on our own. A customized Android version might be there to support its black and white UI. The metallic finish amalgamates with glassy, transparent body to bring Aston Martin's design aesthetic to the fore.
In images below, you could see a camera that integrates itself with the speaker grille at the back of the device. Probably, it won't be having a flash to assist you through night time photo shoots. However, we're more than impressed with the design part that will attract Aston Martin fans for sure.
Via: Concept-Phones