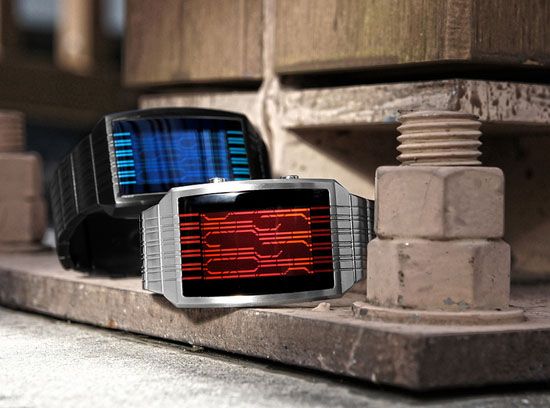 Creatives at Tokyoflash keep suggesting cool watch designs to help people reconsider the way they have been keeping time thus far. Tokyoflash Kisai Online is one such innovative watch that shows time, date and alarm functions in digital format. A user needs to turn his wrist to see continuous vertical lines falling away to reveal date and time on its LCD display. Otherwise, what users can see is a cryptic pattern that seems incomprehensible to say the least.
Conceived by Samuel Jerichow, the Tokyoflash Kisai Online relies on a built in accelerometer for making itself readable to users. By pushing the lower button, users can read today's date. A programmed animation mode keeps animating every two seconds. You don't need to worry about changing the battery too often as a standard CR2032 watch battery generates enough juice to help it run for 12 months.
Crafted from stainless steel, the watch is available in black or silver and three LCD colors that include natural, blue or red. A fully adjustable strap fits all wrist sizes. Those who wish to lay their hands on the cool Kisai Online watch need to act really fast as a 48 hour limited time release price of $149 (€118, £95) is expiring this Saturday only at 11:30am (Japan time). If you fail this opportunity, be ready to purchase it for $169 (€137, £108).
Via: Tuvie