Wristocat is an amazing device made by Dave Luciewand his team.This device helps you rest your arm on it comfortably while you work on yourcomputer.This wrist support is the only device to have magnetic levitation that suspends your arm without coming in contact with the work surface and allows you to do your work without suffering from fatigue and stress.As themovement of cats inspires the design of this device, it gets the name Wristocat. Read on to know more about this useful device for desktop users.
How Wristocat is useful
The main aim behind developing Wristocat is to provide comfort to computer users whogenerally experience discomfort in their arms, wrists, and shoulders after long working hours.Wristocat's unique and smart ergonomic designcan help you move your hand in flow on a keyboard or touchpad, as well as overa mouse.It also allows an easy slide of your hand across the entire desktop.Moreover, it keeps your wrist aligned and relaxed, thereby providing flexible movement to your arm so it may adapt to your working style. Wristocat makes all functions easier, be itthe clicking of a mouse or gaming for a longer duration.Thus, it is surely your hand's best friend.
Working of the device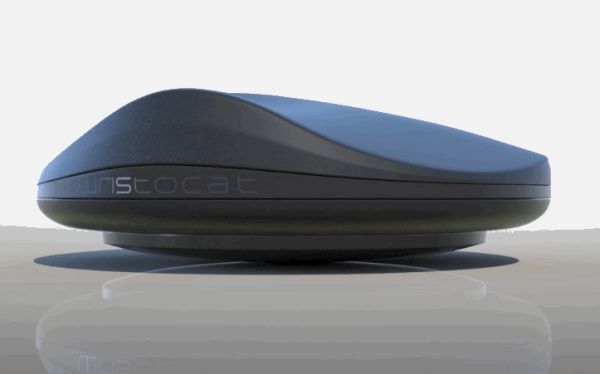 While you rest your wrist on it, Wristocat moves along with your hand's movement and keeps your hand at an elevated position and fingers resting over amouse or keyboard.Thus, no pressure is exerted on your wrist and your work is made natural and less taxing. The device allows full arm movement due to which the large muscles in your arm and back share the work pressure, without focusing on a single point like your wrist.The support cradle of Wristocat softens every gesture and movementwhile offering proper support to your palms.
The device design
The patented design of Wristocat levitates your hand, thereby allowing smooth cat-like movement and gestures with the help of a powerful magnetic barrierin the device. This magnetic barrier has a protective cover surrounding it, through which the magnetic field concentrates in the center and preventsany metallic objects or debris from being attracted.The device is available in several colors, including black, clear, pink, and burgh yellow.
How Wristocat helps in avoiding common stresses
Wristocat is a helpful device that avoids many common stresses you experience while working on computers. It avoids the extreme bending of your wrist.It also removes pressure and weight created on your wrist while working for long.The device helps you avoidthe dragging of your wrist when it is in contact with a work surface. It additionally supports the entire arm and large muscle movement when you otherwise have to bend or twist your wristwhile keeping your arm stationary. By making it easier for you to work between your input devices, Wristocat helps you improve your overall posture and work habits.
Wristocat is the ultimate wrist supportdevice that forms a perfect blend of ergonomics, comfort, and style for computer users. This smart device relieves varied kinds of stresses on your wrist and makes you work comfortably for long hours.
Source : Indiegogo.Com