As life is shrinking to smaller homes and even smaller kitchen areas, it has become important to work out new types of gadgets and appliances to use in our kitchens. Many of us would also want to minimize heavy installations and avoid space-consumingunits. While considering all such factors, Jeremy Godel and Taina Campos have designed a beautiful and smart extractor for our kitchens. Read on to know more about this device called R Flow that can replace heavy hoods in kitchens.
The R Flow design concept
The French designers have taken their inspiration from the use of extractors in kitchens. They wanted to design a compact and movable extractor that does not require installation. They also wanted to optimize the airflow, as well as the absorption and vacuuming capacity of their extractor so it can extract odors and fat from cooking in an efficient and noiseless manner. This concept is what they have successfully incorporated in the design of R Flow.
Product usefulness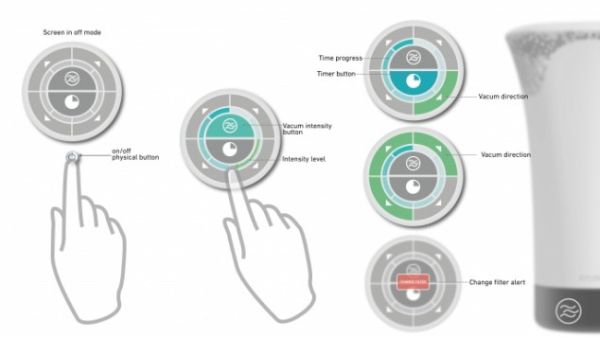 This versatile extractor is great for homes where kitchen space is less and the smells arising from cooking spread everywhere. As it is shaped to be narrower at the bottom and wider at the top, it can fit easily on any cooking surface andvery near to your cooking pans. It is also wonderful when you have been cooking in multiple pots.
R Flow is quite efficient for up to four pots.It not only absorbs, filters, and extracts smells, but also does the same for fat from your food, grease, and vapors.This user-friendly device attracts smoke or burning fumes effectively and improves the airflow.It is wonderful for improving the air quality in your kitchen. By the time it hits the markets, you can expect it to be more accurate and enhanced in design.
Performance and functionality
The design of R Flow extractor is lowcost yet oriented towards performance. Its shape supports its efficiency of catching smoke and smells.On its top portion, four sections are distributed. Below it, there are filters for grease and odor, as well as an air duct and a 12V fanand battery at the bottom.With a physical button, you can switch it on and off. Two other buttons allow controlling time and vacuum intensity whose progress and direction are displayed constantly on the top touchscreen.
During its operation, the absorbed smells move through its holes and go down its pipe. Smells arefiltered by itssteelgrid and charcoal filter.You can easily replace its charcoal and wash its filters in a dishwasher. Thus, R Flow is a sturdy yet low-maintenance extractor.

R Flow is an efficient and effective smell and fat extractor that can add to your healthy and clean cooking experience.It is a satisfying product with its low maintenance and durability.
Source : Jamesdysonaward.Org