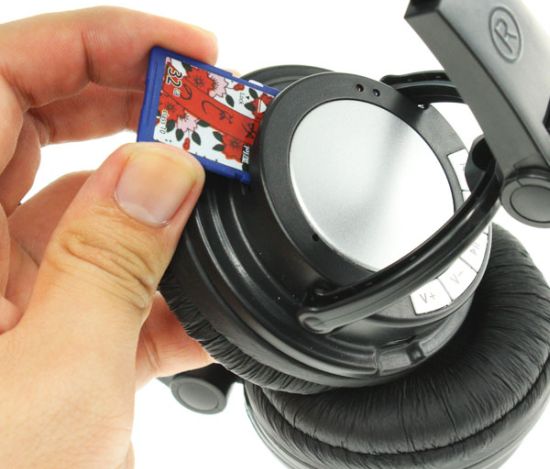 Attaching your headphones to a MP3 Player has been the customary way of enjoying blissful tunes. However, by combining both these gadgets (the accessory with MP3 device), we may save ourselves the trouble of removing those unsightly, dangling wires. Dubbed as DNSB-80677, the headphone-MP3 Player Combo is one such device that promises up to 16hrs of continuous playtime, while supporting SDHC Cards up to 32GB. Perfectly compatible with Mp3 and WMA files, the unique combo will exert a definite pull on geeks, commuters and sportspersons for sure.
The 160g device eliminates the need of having a separate music player and allows you to listen to music without requiring any cords for that. All you need to do is press the button on the right speaker and enjoy the perfect melodies on the move. Furthermore, the blue light blinks to indicate that the device has enough juice to continue playing your favorite music for some more time. However, when you plug it into a socket for recharging, the red light starts blinking to indicate the charging process.
The 1,999 Yen combo comes with a USB cable which you can plug into a PC or USB-AC adapter for charging your device. Available here and here.
Via: AkihabaraNews