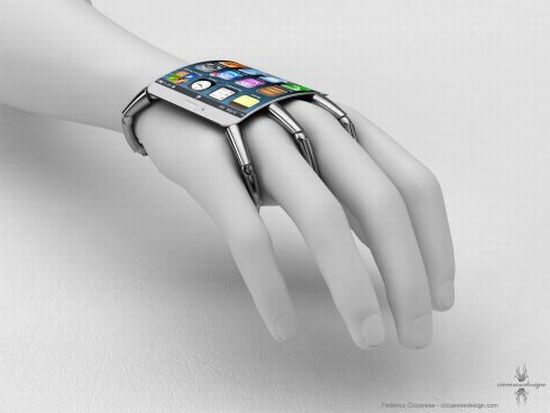 Have you ever given much thought to wearing your iPhone on your wrist? Well, if you did, Federico Ciccarese has conceived iPhone 5 bracelet for you that resembles a spider crawling on your hands. As the designer believes in realizing what actually does not exist, the iPhone bracelet is an effort in the same direction – a commendable one for sure.
With three of its arms (tentacles rather) seeking a resting place between your fingers, the display screen covers the back of your hand for making it extremely comfortable to touch and type. The circular strap ensures that it the iPhone bracelet doesn't fall off while you're busy in exploring the amazing display of your bracelet phone.
Since designer hasn't revealed much about the technical specifications of his concept phone, we can't articulate our opinion about the same. However, we can't deny the presence of a flexible screen and HD resolution. You never need a powerful processor, so the A5X would do. What do you say?
Via: Concept-Phones