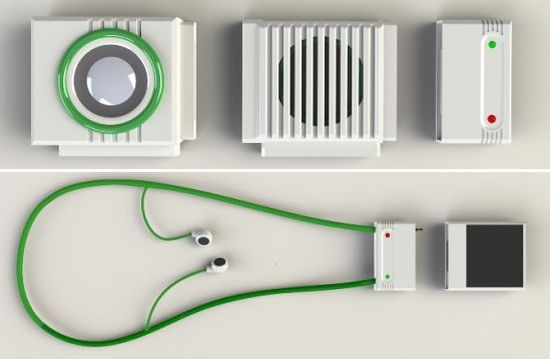 With the portable gadgets, especially MP3 players, flooding the electronics stores to replace old ones every day, e-waste threatening the environment has become a major issue all over the world. Designed to reduce electronic waste around us and make earth a better place for living, the "Segment" as the name suggests is a portable MP3 player that breaks its components into individual modules to ensure minimal waste of electronics. For now you can replace the broken components with new ones, without the need of changing the entire unit.
Combining basic segments, including MP3 player, battery and two micro SD cards, the compact music player features a flexible design to connect other components to enhance its functionality according to the needs and liking of the users. The sustainable MP3 player also integrates a speaker and base booster to enliven your social gatherings or events, such as parties and picnics.
While the travel components, like headphones, makes it handy to use during your everyday commute or long journeys, as you can wear it around your neck for easy access on the go, on the other hand, the screen lets you go through the playlist and access other programs, such as games and photos, loaded onto the memory card.
Featuring the body finished in Polypropylene, which makes it easy to recycle, the music player makes use of battery as a separate component, so users could choose the size and capacity to meet their individual needs. Indeed, the Segment MP3 player ensures great portability and sustainability, and that too without compromising on the quality of music.
Via: Cargocollective