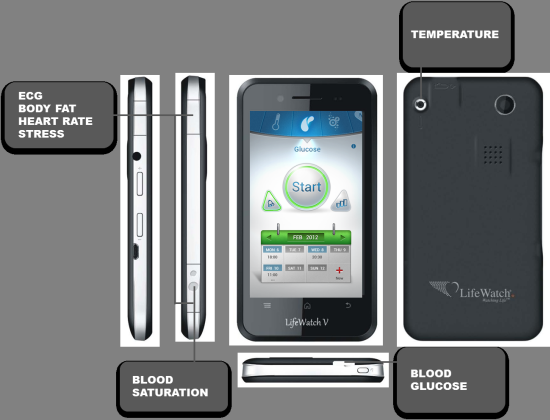 LifeWatch has come up with the LifeWatchV smartphone that caters to the health-conscious. Claimed to be the world's first healthcare solution smartphone, the device allows users to monitor ECG, blood glucose, blood oxygen, body temperature, galvanic skin response, heart rate and stress level on their own. The Android smartphone has inbuilt sensors to help diagnose common disorders and illnesses.
LifeWatch has developed medical apps and hardware for this smartphone. What the users need to do is place their fingers on the sensors and the smartphone begins tracking your health, and suggest plan meals, activities, etc. A personal database takes care of test results. Users may send this data to physicians, call centers or family members via e-mail or text message. Three call centers are already there in the US that handle LifeWatchV users' queries. LifewatchV houses apps for nutrition management, pedometer, and medication reminder inside its stainless steel frame.
The makers hope to obtain EU CE Mark certification by the end of this year and US Food and Drug Administration (FDA) approval the following year.
Via: Globes