The best of chefs around the world are known for their love of doing everything the traditional way. Heck, some of the best culinary schools in the world include knife work and basic cooking in their curriculum. However, modern chefs are not all that averse to using gadgets to simplify their workflow. Here is some of the best cooking equipment that has been given the seal of approval by the geekiest of chefs around the world.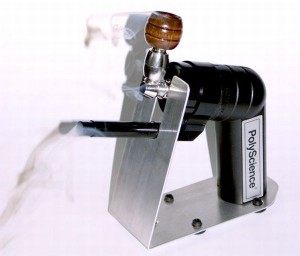 . PolyScience Smoking Gun
Price: $99.95
Smoking meats is a science in its own right and most chefs have a top secret "guy" who they source their smoked meats from. Since smoking meats generally requires one to, well, create smoke, apartment dwelling chefs just can't do it the old fashioned way. And that is where the  PolyScience Smoking Gun comes into the picture. The Smoking Gun helps you lend a smoky flavor to all kinds of foods like meringue, chocolate, salads cocktails, oysters and even butter using natural, cool smoke.
. Ravi Solution Instant Wine Chiller
Price: $39.95
Anyone who doesn't have a proper wine cooler or cellar (and that would be 90 percent of the wine drinking population) knows just how painful it can be when you are ready to serve dinner to guests and realize that the wine you would be serving isn't chilled enough. Thanks to the Ravi Instant Wine Chiller, that is no longer a problem that would be the bane of your existence. The stainless steel device installs right at the neck of a bottle and allows you to pour chilled wine (or another beverage) instantly.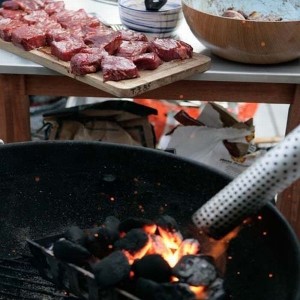 . LooftLighter Fire Lighting Tool
Price: $79.99
If you hate a gas grill but hate the lighter fluid smell that your coal-powered unit gives off then you need to get yourself the LooftLighter Fire Lighting Tool ASAP. What the device basically does is that it shoots out a hot air stream that raises the temperature of the coals to the point that they catch fire on their own. The au natural process of course results in superbly untampered smoke flavoring in all your BBQ dishes. You could also potentially use it to make crème Brule and sear the sides of meats if you please.
. SousVide Supreme Demi Water Bath
Price: $299.95
The snootiest chefs around the world swear by sous vide cooking as it allows foods to cook slowly without ever getting overdone. The gadgets required to implement the sous vide technique are of course terribly fussy to work which is why the geeky chef in your life would absolutely love this simple to operate SousVide Supreme Demi Water Bath. The countertop unit is compact and energy-efficient and makes implementing the technique a simple, one button operation.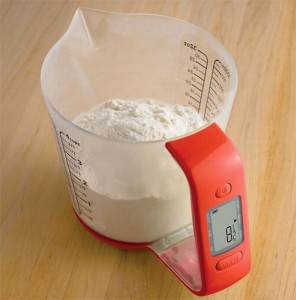 . Taylor Digital Measuring Cup
Price: $26.99
Precisely measured ingredients are the key to churning out perfect dishes day in and day out. However, even the best of chefs can have an off day especially with recipes that require them to use dry ingredients by weight and liquid ingredients by volume! Thankfully, Taylor Digital Measuring Cup and Scale is a foolproof measuring device that makes sticking to the recipe closely super intuitive. And the best part is that it can be used to measure all kinds of common ingredients.