You may be wondering as to who wears wristwatch nowadays. Wee, they certainly serve more functions that just informing you time and wristwatches these are more of a style statement. A uniquely designed strange looking gadget on your wrist certainly makes an impression. Below we list out 5 such wristwatches that will help you stand out from the average Joe geek crowd.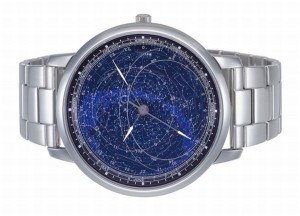 Astrodea Celestial Watch
Astrodea Celestial watch gives you the opportunity to not only keep track of time but to also understand your universe better. Its blue star map rotates in real-time showing 1109 stars and 169 galaxies. While you always had to look above towards night sky to gaze in to stars and galaxies of our universe, the watch gives you an opportunity to look down and do the same. In case the stars on your watch are too tiny to be observed by your naked eye the watch provides you with a 10x magnifying glass to ease your task. One of the rare watches available in the market no wonder the price tag is $600.
Faceless LED Watch
If you just need a watch to keep track of time it's not important for your watch to board and LED display. Faceless LED watch is more of a wristband, which allows more freedom with the design of the band and time is displayed by glowing LEDs in between the spaces. It doesn't intend to remind of time all the time and works more like jewellery on your wrist for most time, but just a push of button and your friends will be surprised to know that it actually functions as a watch. It will not burn a hole in your pocket as the starting price is about $10.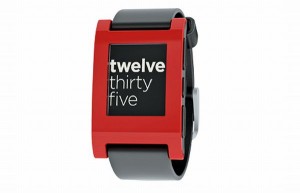 Allerta Pebble
Dubbed as "smartwatch" Allerta's Pebble is a much awaited gadget this year with the project collecting over 10 million on Kickstarter. Pebble can be connected to your iPhone or Android phone through Bluetooth and informers you about the latest call or message through vibration. Given its ability to be used along with apps on your phone it can serve multitude of purposes such as telling you about miles you travelled on a bicycle or to control the multimedia on your phone. The watch comes with e-paper display, which makes it more suited for outdoors and saves battery life. The starting price for Pebble is $99.
Infinity Invaderz Watch
This one is a weird one just like its name and that's why people brand it nerdy. The watch boards an array of LEDs based on 8-bit arcade with a green and black background. The time is displayed by two flashing blue LEDs along the two axis. Priced at $34.99 it might not be the easiest to read watch on planet but it surely makes a style statement.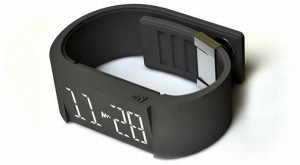 Mutewatch
Mutewatch is a waterproof LED watch that is more like a bracelet with unibody design. Mutewatch boards a touchscreen and adapts brightness according to the surroundings. It comes with a USB port for charging and is available in a variety of colors. This sleekest watch of the lot is certainly not cheap by any means and comes at a price tag of $260.