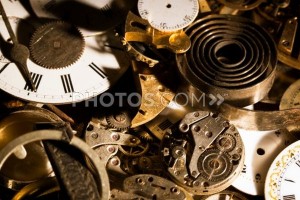 As a genre, steampunk probably has an equal number of fans as the futurist wing of science fiction/fantasy does. However, thanks to its roots in the technological brilliance of the Victorian-Edwardian era, most steampunk gadgets are highly functional not to mention utterly beautiful to boot. Here are five of the top coolest and most functional steampunk gadgets that we have ever seen.
1. Steampunk Headphones
When you read a description like "Mechanical Aural Communication Device", you basically have no clue what it refers to. Of course, the label is a pseudo-Victorian way of saying that this gizmo is a pair of headphones. Made by a person named Nicrosin, these steampunk headphones use suede lining pocket watch parts and rubber, etc. The headphones are actually non-functional, though they can be used as awesome conversation starters. Also, you can hide your earphones in it and fool people into believing that these headphones really work on clockwork alone!
2. Steampunk Toilet
Dubbed the antique lavatory of the future, this steampunk toilet actually looks something that we could see in a Sherlock Holmes movie though it could be hard to justify the presence of a laser pointing mechanism and the control panel within a turn of the century setting. But it would still be awesome to see Robert Downey Jr. taking a shite in this thing while trying to deduce clues about a gruesome crime!
3. Steampunk Vibrator
Sexuality may have been a taboo subject for prudish Victorians though that hasn't stopped engineering student Ani Niow from creating a steampunk vibrator that works using compressed air. Now if only someone could invent a time machine, take this thing back to the 1900s and introduce it to Victorian ladies, we could perhaps have been saved the whole bra burning fiasco of 1968!
4. Steampunk Mouse
If you are looking for a way to mess a dope head friend's mind up, you can use this steampunk pointer to create a photoshopped image with a fake mid-1900s setting and the image of the dude's mug. By doing so, you can make him believe that his time-traveling self introduced the PC to the Victorians and that Charles Babbage based his computer machine designs on this very time travelling mouse!
5. Steampunk Laptop
A modern steampunk enthusiast would absolutely love this wonderful Windows XP/ Ubuntu Linux running HP ZT1000 laptop. Complete with a custom-built ratcheting switch, activated via a antique clock-winding key that turns the machine on, the old timey looking laptop features a customized wireless network card, leather wrist pads, faux-antique copper keyboard and mouse, claw feet, engraved brass accents, a display of clockworks under glass and a hand-crafted wooden case. All these features make it an utter delight for people looking to capture a hint of the glory of the invention era.