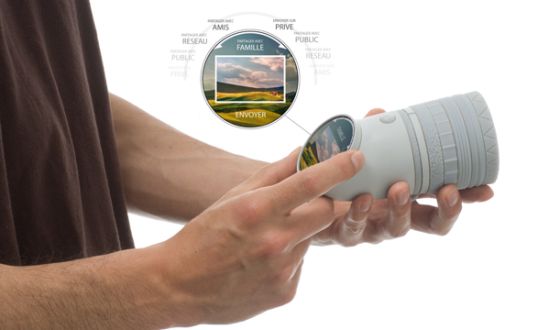 If compared to a conventional film camera, digital photography offers various untapped opportunities to improve the user experience. In an attempt to control complexities of digital cameras, designer Adrien Guérin has come up with a new type of digital camera that simplifies access to the intricacy and richness for common users. Hailed as "Autodidactic Camera," the new digital photography device by the French designer presents a user friendly design, so users need not to understand the mechanism of the unit.
Displaying the aesthetic components of the photo on textured adjustment rings, the digital camera lets you capture elaborated pictures with minimum fuss. Organizing the pictures with a personal interface, the Autodidactic camera instantly sends photos to your computer, Facebook, email, etc., so you could vacate the internal memory of the camera and share photos with your friends and family in real time.
Last but not the least, the camera moves pictures, via augmented reality, around the people to enrich their experience through the most discerning users. Winner of the Observer Design Prize 2012, the Autodidactic camera is scheduled to be presented at the "Tomorrow is today # 4" exhibition at the International Design Biennial in Saint-Etienne, from March 13 to June 5, 2013.