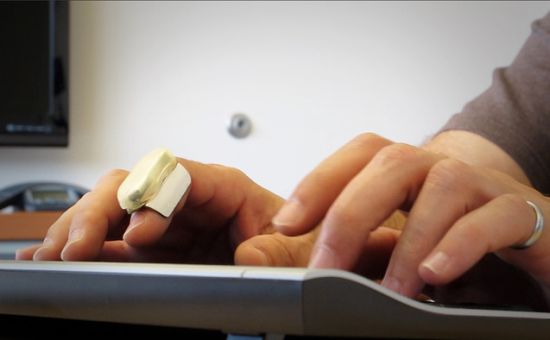 Nowadays, people use portable computing systems on the go more frequently than ever before, but conventional mouse has its limitations and interrupt the workflow while using laptop in an airplane, train or a coffee shop. Providing a solution, designer Nick Mastandrea, founder of Ohio-based Innovative Developments LLC, has come up with a wearable 3D mouse dubbed the "Mycestro" that the user can wear in his/her index finger for uninterrupted workflow, no matter how cramped or compact is the workspace.
Capable of tracking hand motion in 3-D space, the thumb-activated mouse comes with a touch-sensitive panel that activates the cursor movement. Offering an impressive range of up to 30 feet, the Mycestro 3D mouse also lets the user personalize programmable gesture commands, like a flick or swipe movement. To activate the mouse, all you need to do is touch anywhere on the panel, while you can control position of the cursor by shifting your hand in the desired direction. And you need to let loose the touch panel and tap on the left, middle or right button section once again to make selection.
About the size of a wireless earpiece, the Mycestro works smoothly with Bluetooth Smart Ready devices like iPad 3 and newer iPad Mini, iPhone 4S and newer, iPod Touch Gen5, Apple MacBook Air, Mac mini and MacBook Pro and any PC with a compatible BLE dongle, thanks to built-in Bluetooth 4.0 Low Energy Protocol. Powered by an internal battery that can be charged via USB, the compact, lightweight mouse allows the battery life up to eight hours, depending on usage.