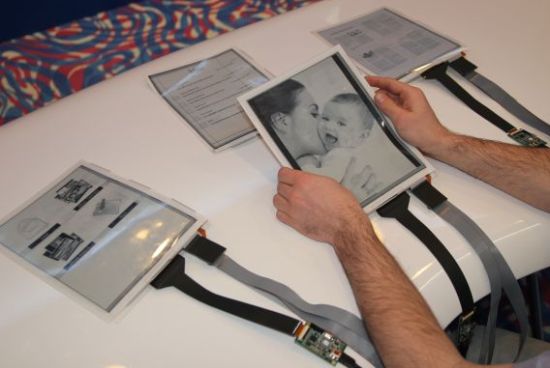 The pace gadgets are getting thinner and lighter, the day isn't too far away when we have paper thin devices at our dispose. Check out the "PaperTab," an ultra-thin and ultra-flexible touchscreen device, which is sure to change the way people use tablets and computers. Developed at Queen's University in collaboration with Intel Labs and Plastic Logic, the PaperTab features a high-resolution, 10.7" E-ink touchscreen display.
Running on the second generation Intel Core i5 Processor, the flexible tablet doesn't use different apps or windows on a single display, instead it comes with ten or more interactive displays or PaperTabs, each working with a separate window or application, while remaining in close proximity (interacting) with each other. In addition, the user can form a big screen by positioning two or more PaperTabs next to each other, so he/she could drag objects across multiple screens.
Thought the PaperTabs will have to cover some distance for commercial availability, but you can have a closer look at the flexible tablet prototype at CES 2013 in Las Vegas.