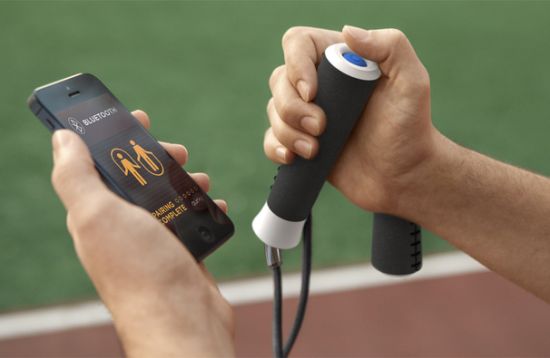 Skipping is one of the most traditional yet best exercises to keep you fit and healthy. Giving a new twist to the conventional workout, Quirky has developed a Bluetooth-enabled jump rope called the "Revolve" that monitors your fitness regime while skipping. Apart from recording the jumping time, number of jumps, revolutions per minute and heartbeats per minute with a partner app, the hi-tech rope also tells about the calories burned during the workout.
Users can choose a professional jumping course for a hardcore workout and set up new fitness challenges to remain in shape. Featuring leather handles with steel ball bearings to allow better grip and reduce friction, the hi-tech jump rope comes with class 2 Bluetooth version 4.0, with a range of 10 meters, and a simple ON/OFF switch to monitor your workout.
Running on a battery for two weeks on a single charge, and for two months on standby mode, the Bluetooth jump rope is three meters in length and 5mm in diameter, while the plastic handle is 145mm in length and 36mm in diameter.
Via: Quirky