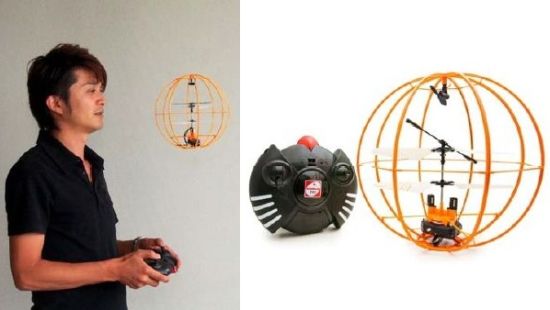 Usually a remote controlled toy helicopter needs an open space for a safe take off and landing, but the Kyosho Corp has developed a creative toy chopper that the kids can fly within the four walls even without damaging the propeller.  Dubbed "Space Ball," the toy helicopter comes encased within a spherical frame that absorbs the impact when it collides against the wall.
Featuring a control circuit with a gyro sensor, coaxial main rotor and propulsion rotor, the toy chopper is designed for indoors that the user can steer with infrared light without any difficulty.  Measuring about 200mm in diameter, the frame of the helicopter brings it back in the right position after it hits the roof or walls and fall on the floor.
Steered with a controller, powered by six AA alkaline batteries, which also doubles as battery charger, the Space Ball is a safe toy for your kids as it artistically hides the rotating rotor to prevent injuries. The toy helicopter is available for $80 (¥6,279) that will keep your kids engaged within the house.
Via: Techon