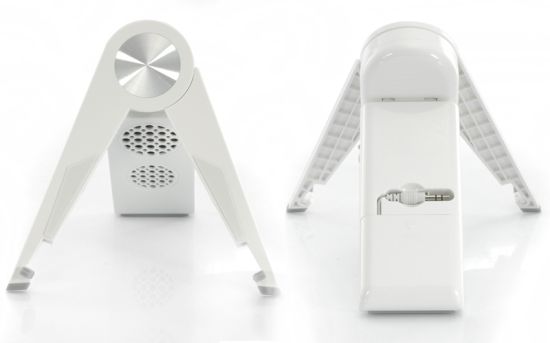 Smartphones and tablets may let you stay connected on the go, but holding them constantly while watching a movie or surfing the net become tedious and users wish for a smart stand to hold their chic gadgets safely. Offering a solution, here is a quality stand that not only holds your Smartphone or tablet elegantly but also comes built-in with a 2W speaker system and charging port to juice up your smart gadgets.
All you need to do is spread the legs of the stand, pull out the two rubber supports at the bottom and place your tablet or Smartphone to enjoy a movie or video handsfree. The speaker dock also includes a 3.5mm connection jack, which makes it compatible with your smart gadget's earphone slot.
Moreover, you can charge your tablets or smart phones directly from the stand, using a USB port, powered by AA batteries. Priced at $7.04, the smart stand is small enough to fit in your pocket for easy transportation and use.
Via: Chinavasion