For those of you that like to think of themselves as vagabonds and like to travel distant places, comfort can add to the cherish able moments that you are building on the road. Caravans and Motorhomes have been revolutionized with the advent of modern technology into the ultimate luxury homes so that you travel in style and comfort. Striking equilibrium between these two necessities here are some luxury caravans that you might consider for your next trip.
Caravasio caravan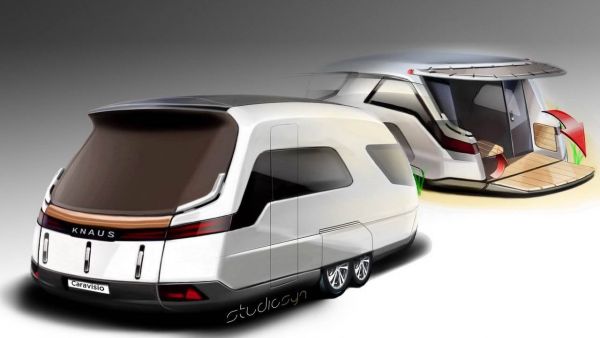 Launched at UK's National Motorhome and Caravan Show at Birmingham's NEC, this luxury vehicle is priced at an eye-watering $500,000. At a price that costs more than most homes would, this luxury caravan is built for comfort and style and is equipped with some of the most advanced mod-cons.
The cone-shaped caravan is more aerodynamic and spacious enough for two single beds or one king size bed. If the weather is good, you can pop the back of the van open to form a terrace.For bad weather stay-indoors kind of days, the whole rear wall of the van can be changed into a giant movie screen.
The water supply is controlled by a touchscreen panel in the bathroom near the cockpit. The van boasts of a wine cooler compartment as well as frosted "smart-glass" doubled paneled sliding doors.
Built with a fiberglass shell, the most striking feature of this caravan is a fully designed app that can run on iPads and control some features of the caravan. With a finger-print scanning biometric system for security and the ability to control temperature, lights and sounds inside the caravan via the app, this is no less than a luxury yacht.
Futuria Sport + Spa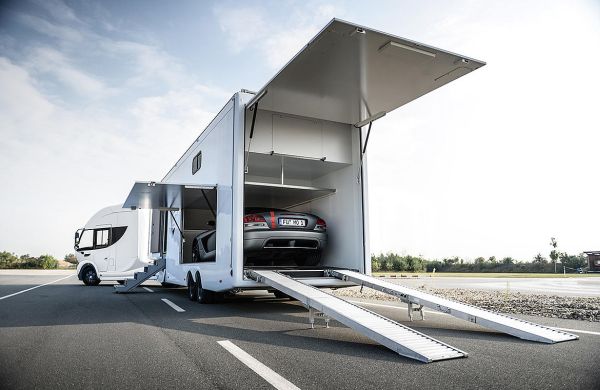 A monster caravan, and not at all classical in any way, this luxury caravan has a lot to offer to those that are enthusiasts of active travelling. Powered with a 200 HP engine and a aerodynamic front, large garage which can easily fit in a sports car this caravan does not compromise on space. Designed by Most Mobile Specials in collaboration with Eura Mobil, this motor home has a living room, two bedrooms and a giant terrace that can be used for many purposes.
Equipped with a large Jacuzzi that has illuminated jets and waterfall effects the terrace can still accommodate picnic tables, barbeque grills and more that can be ordered as accessories with the caravan.
Roadstar Little Rippa Adventurer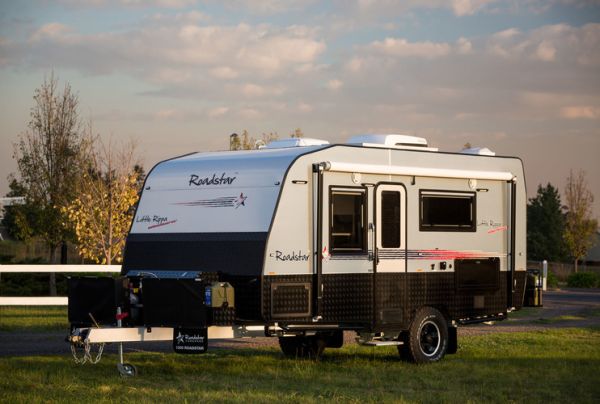 Designed and manufactured in Melbourne by Roadstar this caravan has a special eye for details. This caravan is single-axle and has full off-road capabilities. Paying attention to details the van has a number of elegant features such as the stainless steel switches, stylish acrylic cabinetry and soft glow LED lighting.
Equipped with the latest electronic brake system and drive assist camera technology, the van also has twin 3.7T shock absorbers, external sound system, external shower and 16-inch Mantis alloy wheels with two spare off road tires for emergencies, this caravan makes sure you travel in style.
Bailey Caravans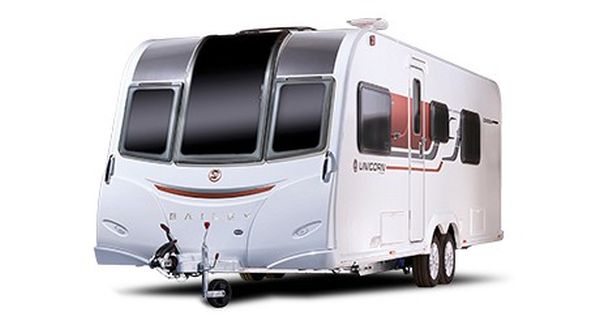 Leading the industry of light-weight caravans with their Alu-Tech construction, Bailey caravans has delivered one after another designs without compromising on luxury and quality. Providing great insulation by identifying cold spots in the walls and insulating them, the van is light weight and also warmer in winters and cooler in summers.
The lighter weight of these caravans is big advantage on saving fuel because of less towing. These caravans are fitted with a number of trailer control systems, stabilizers & shock absorbers and many latest road safety features.

A caravan or a motorhome may seem like an outdated concept to some, but if you are ready to spill some heavy dollars, the modern caravans can give you a luxury-resort like treatment.