The S7300C tablet is the newest Android gaming machine by JXD. It is now available at Gearbest.comand it closely resembles the JXD 7300on the outside. There's however a change in the hardware that makes the S7300C run faster and smoother. It is loaded with the powerful RockChip 3188 Quad Core that takes gaming to all new heights.
JXD S7300C Main Features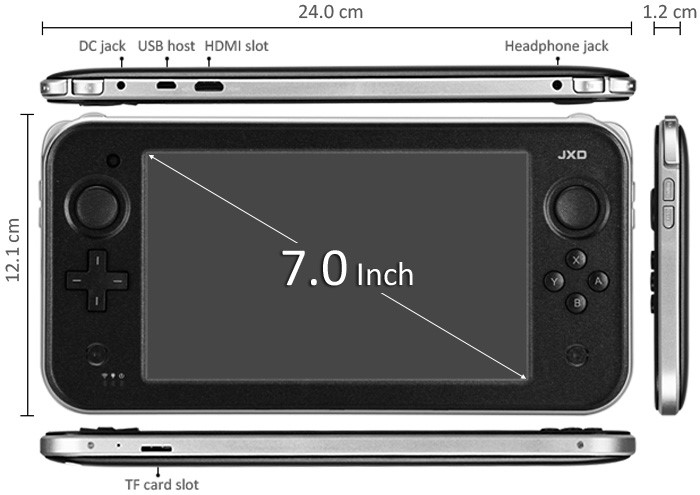 RK3188 Quad Core 1.8GHz, Cortex A9 CPU ARM Mali400 GPU
1 GB DDR3 RAM
8 GB ROM, supports up to 64 GB external storage with a TF card.
Android 4.2 OS
7 Inch LCD screen (1024*600 pixel)
Online video call support
Wi-Fi / OTG / HDMI / MP3 / MP4 / FM / Sound Recorder / Gravity Sensing function enabled.
Multi language support
The JXD S7300C is the perfect gadget for users who are searching for a super handheld game machine. It is a multi-functional device and delivers maximum pleasure for your gaming experience. The S7300C features a 7 inch screen so it brings about comfortablegaming and at the same time allows you to easily carry it around, as you know, people are mobile. The JXD S7300C is as mobile as you. The touch screen features a 1024 * 600 pixel resolution which makes for quality image as you play all your favourite games. The device allows you to play music and watch videos as well. So when you just want to relax, listen to all the music you love and watch videos wherever you go. Your trip doesn't have to be boring. Carry the S7300C with you and enjoy all the fun in the music, videos, and in all the latest games.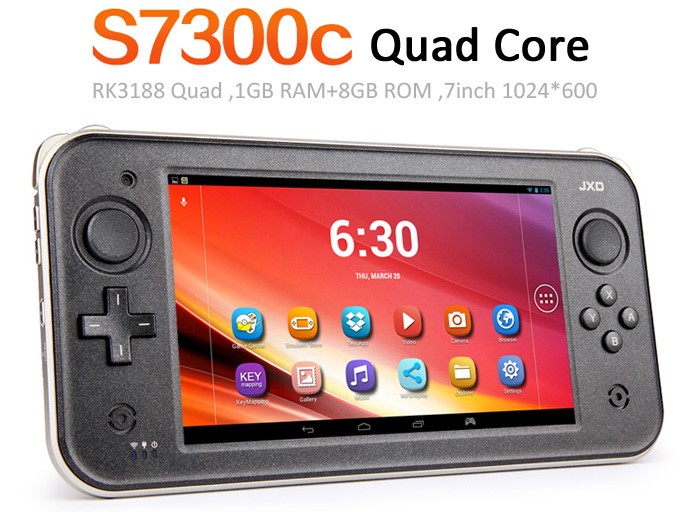 Its RK3188 quad core chip clocked at 1.8GHz and cortex A9 CPU ARM Mali 400 GPU makes the device powerful and allows you to play all your games without annoying lags experienced in other devices. The potent RockChip 3188 loaded in the S7300C makes all your operation on the Android 4.2 OS fluid and responsive to all your touches. When you want a gaming console choose the best. Buy the JXD S7300C at Gearbest who are currently offering it at greatly reduced price. With its regular price tagged at USD $ 197.27, Gearbest are enabling you save $ 88.26. Purchase the multi-functional, feature laden S7300C for only $ 197.27 at Gearbest. The JXD S7300C is thus gaming power you can afford.
The device is good looking to offer you a pretty hand-held gaming machine. The S7300C is the ideal gift for your spouse or kids. With 1 GB RAM and 8GB internal storage, they can store pretty every game they love. It plays all the latest 3D games so they can enjoy the newest games that come their way. In case the 8 GB internal storage is not sufficient, you can expand it with a TF card up to 64 GB so you can carry more games, more music, more movies, and e-books if you love to read too. Buy JXD S7300C at Gearbest.com and see it delivered to your doorstep for free.The 7 Inch JXD S7300C Android 4.2 Tablet guarantees you fun wherever you go.