The annual Consumer Electronics Show held in Las Vegas this year was nothing less than amazing, and like previous shows had plenty to offer for tech enthusiasts. Several exhibitors displayed a wide range of TVs to catch the attention of potential customers. Let us look at some of the TVs that stood out.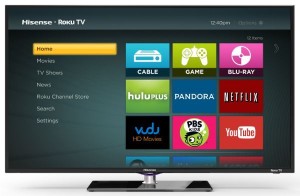 Hisense and TCL Android TVs
Although many companies are still trying to perfect their Android powered Google TVs, CESS 2014 witnessed two giants promoting their respective android TVs. The models showcased by both companies consist of the skinned version of the standard Android TV along with Google play. The screens look different but offer similar features like voice and gesture controls. Hisense had an additional Pulse add-on box to display, which would enable video sharing features similar to Chromecast. A microphone integrated into the remote control enables the voice control option. Hisense displayed its entire line of android TVs at the show, including the Ultra HD H8 and H9 line.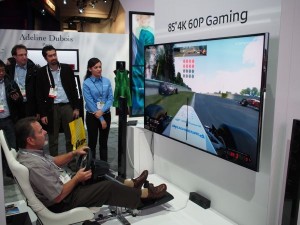 Sharp 2014 HDTVs
Sharp has made it a point to sell only big TVs, a point that was reiterated at CESS 2014 where the company displayed its line of HDTVs, including the 4K, 8K and 1080p+ models. The 8K model also comes with a glasses-free 3D option.
The models showcased by Sharp at CESS 2014 include:
Aquos 4K Series: 60/70 inch, THX certification, 120 Hz refresh and HDMI 2.0 compliant
Quattron + Series: Quattron Panel, Revelation Technology (forming 16 million sub-pixels) and AquoMotion 960 compliant.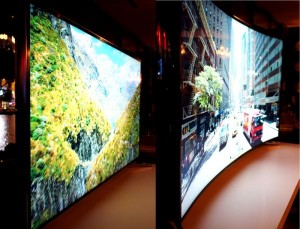 Samsung Ultra-HD and Bendable TV
Samsung's U9B is a bendable TV that can be used either as a curved set or as a flat panel with the single touch of a button on the remote. The screen employs LED lit LCD panels to produce images, with the LCD panel and light source being flexible.
The company's Ultra HD (U9500) TV has a screen size of 105 inches and offers an amazing aspect ratio of 21:9 which is higher than the 16:9 aspect ratio used in standard 4K TVs. While the height of 2160 pixels is the same as other Ultra-HD TVs, the width of 5120 pixels is something new.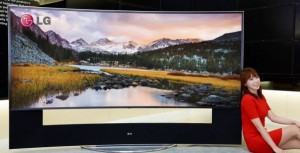 LG 2014 LCD HDTVs
LG displayed its LB 7100 and LB 7100 HD models at CESS this year. The screen sizes for these models vary between 55, 60, 65 and 70 inches. The refresh rate is 240 Hz.  Other highlights of these models include a TruBlack feature that enables the edge-lit LED backlight to dim in order to boost contrast.
LG also displayed its LB6500 and LB6300 Plasma HD TV models. The screen sizes for these models are 47, 50, 55 and 60 inches (additional 42/65 inch model for LB 6300. The refresh rate for both models is 120 Hz, with LB 6500 offering an additional 3D option.