Mechanical keyboards, attributed as the best options for gaming, come with individual switches under each key which are responsible for that clicking sound you hear when typing. These keyboards enjoy a slew of advantages when compared to membrane keyboards, some of which include minimal typos (the tactile feedback makes it easier for you to know that you have pressed a key), durability (stands the test of time and the rigors of intense gaming sessions), satisfactory typing experience (tactile and audible feedback reduces typos) and nostalgic feelings (for those who love the look, feel and experience of olden day computers). However, not every mechanical keyboard out there would be the same. There are so many models to choose from. And if you are on the lookout for the best mechanical keyboard among them all, here are a few tips to help you out.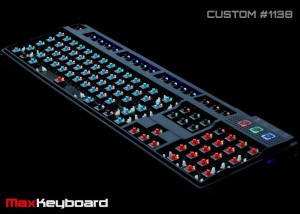 Choose according to Key SwitchTypes
Mechanical keyboards come with different variants of the Cherry MX keys which in most cases, are designed to offer different levels of typing/gaming experience. Accordingly, the most popular key switches used in mechanical keyboards for typing/gaming purposes include:
Cherry MX Black: Excellent audible and tactical feedback, aimed solely at intense gaming sessions.
Cherry MX Red: Less tiring than MX Blacks, these key switches are easier to use, and are often preferred for both work and play.
Cherry MX BrownCherry: Similar to the MX Reds, these key switches are used for both gaming and standard typing.
Cherry MX BlueCherry: The standard choice for typists, these keys sound really good, and are great for daily typing.
Cherry MX GreenPhich: Resemble keys in older mechanical keyboards that require extra force to press down.
Cherry MX Cleartill: Offer plenty of tactile feedback, making them the preferred options for heavy duty typists.
Choose according to Budget
Getting the best mechanical keyboard for your typing/gaming needs would also depend on your budget to an extent, and how much you are willing to spend on the peripheral. If you have enough money for high end models, go for branded keyboards like the Das Keyboard, RazerBlackWidow or the Ducky Keyboard.
If you are on the lookout for well crafted, precision keyboards that would last forever, opt for Filco'sMajestouch Keyboards. If you have a tight budget however, opt for the Rosewill RK -9000 series which comes with customizable key switches. You can change the switches in the keyboard before buying it.
Choose according to Noise Emitted
Face it! Not all of us are fans of the sound emitted by mechanical keyboards. While you cannot get rid of the noise emitted by a mechanical keyboard altogether, you can opt to reduce the same by opting for different switch types to see which one suits you best. But be forewarned that no matter which mechanical keyboard or switch type you prefer to use, you would end up making at least some noise.