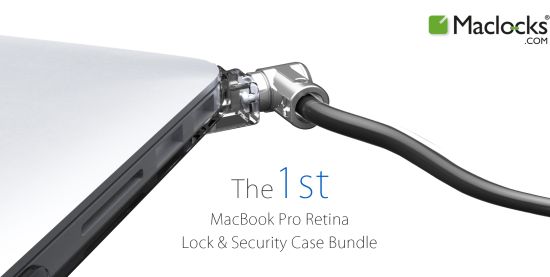 While computer manufacturers round the globe aim for providing the lightest and thinnest laptops and tablets to their users, Apple focuses on usability and mobility aspects. The introduction of New MacBook Pro (Retina) is a commendable step in the same direction. However, without the Kensington security slot and security locks, MacBook may dissuade prospect customers from having such a pricey gadget. Just to provide the same, Maclocks, the US leading brand of Apple security and display solutions has released the new MacBook Pro Lock that claims to be the only security solution for MacBook.
Apple had excluded the Kensington slot from its new MBP design. Although many corporations expected to deploy the new MBP, they were amazed by the fact that Apple has left out a way to secure the most advanced notebook on the market. This led Maclocks to introduce its latest product- The New MacBook Pro Lock (Retina lock) and Security Case bundle. This move makes Maclocks the first company to develop and sell a complete security solution for Apple's new MBP.
The new MBP lock bundle (Retina lock) includes an extremely lightweight security skin (0.35lbs) and super slim security cable. The new MacBook Pro lock bundle is now available for pre-order on Maclocks website for just $69.95.
Earlier, Maclocks had introduced innovative solutions such as the world's first iPad Lock, and the only viable MacBook Air Lock.
Via: Press Release