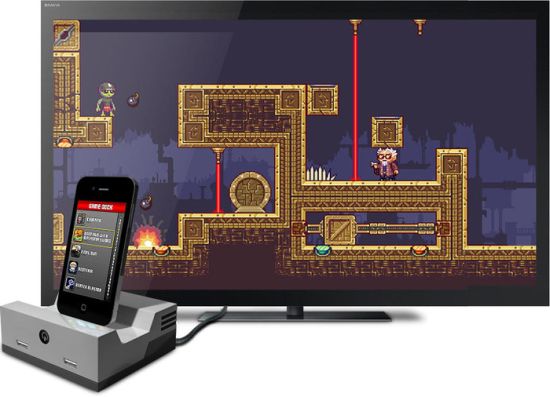 Yesterday we let you know about Equiso Smart TV that hopes to add a smart touch to your TV viewing experience and hence, has garnered tremendous response at Kickstarter. Now, this time, we've yet another inspiring gadget that does a world of good to your iPhone's gaming capabilities. Devised by creatives at Cascadia Games LLC, the GameDock helps users play retro games with two controllers and a TV. What users need to do is plug the dock into a TV or iDevices and enjoy iCade games or dock-ready games on the fly.
The gaming dock includes two-player support and full 1080p HDTV output to allow best gaming experience to avid gamers. The iPhone accessory modifies retro games while adding a dash of modernity into the age honored pixilated games. Moreover, a newly developed dashboard app helps gamers change games by using controller. Since the GameDock can be connected to your iPhone, you don't need to worry even if you don't have a TV. Bluetooth connectivity is yet another, big plus.
The highly qualified team of developers includes Chris from ISITE Design and Andi from CBS Interactive. Owing to their concentrated efforts, the GameDock campaign has collected $1,683 (from 17 backers) out of the pledged goal of raising $50,000.